Content Warning : Do you want to continue?
This poem contains content which some readers may find disturbing.
It is unsuitable for children or anyone who is easily offended.
YES
I am over 18 years old, I have been warned and I still want to read this poem.
NO
I don't want to read this type of content, take me back to the previous page.
deepundergroundpoetry.com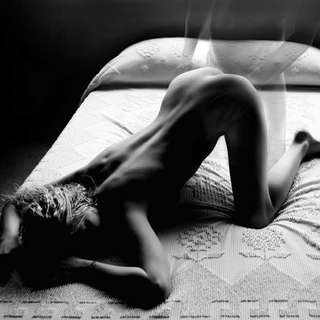 Mellifluus
He watches
me
intently
and
Iím captivated
by his
oceanic
blues
as he peeks
at me
briefly
through
the tilted
louvred windows
as Iím draped
upon
the chair
with my
legs splayed
wide
open
inhaling the scent
of
rhubarb and pear
infused candles
and
the ambience
of his
subtle notions
and
e - motions
leave me
breathless
while
I draw
upon
the memory
of
his touch
and
the depth
of
my own
shallow
breath
evades
me
as my
fingers
dance upon
my bare
hardened nips
in between
encircling my
swollen little
clit
whilst plunging
my fingers
knuckle deep
until Iím
trembling
and
quivering
upon the cusp
of
orgasmic bliss
and
then
he enters
the room
to fill me
to the
brim
as I quake
violently
and
cum
all over his
big hard
cock
as he realises
that I cannot
resist his
temptation
as he elicits
my cunt
to flow
like honey.
All writing remains the property of the author. Don't use it for any purpose without their permission.
likes

7

reading list entries

1
Commenting Preference:
The author encourages honest critique.