Writing and Poetry Community
Deep Underground Poetry is a platform for sharing and publishing poems, lyrics, short stories, spoken word and performance poetry. Meet other poets, writers and spoken word artists. Get critique, improve your writing and take part in poetry competitions. This is your freedom to push boundaries, challenge ideas and engage in thought provoking discussions. Are you interested in joining our diverse network of poets and writers?
Publish
Submit poetry and spoken word
Critique
Get feedback on your writing
Showcase
Earn likes and followers
Challenge
Enter poetry competitions
Introduce
Create a personal profile
Socialize
Participate in forums & groups
Connect
Send private messages
Bookmark
Compile a reading list
Word Play
Hone your skills through word play. Participate with other members in quick-fire short poem and prose challenges.

Rhyme and Reason
A space to discuss Life, the Universe and Everything. Together we'll debate everything from the big mysteries to the small peculiarities of life, and all that's in between.

Loud-Speaker Poetry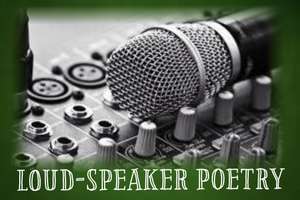 If you want to take your poetry to another level and give it more layers and life, Loud-Speaker Poetry is for you! We can help you read with expression and passion and offer a safe space to practice and perfect your audio / video craft.