Content Warning : Do you want to continue?
This poem contains content which some readers may find disturbing.
It is unsuitable for children or anyone who is easily offended.
YES
I am over 18 years old, I have been warned and I still want to read this poem.
NO
I don't want to read this type of content, take me back to the previous page.
deepundergroundpoetry.com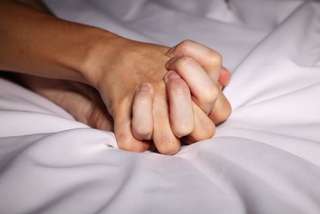 The Main Attraction
It isn't an amusement park
That prompts these words of rhyme
It's of love and satisfaction
Another place, another time

Of mating, masturbating,
Making love or fucking fast
Considering the other
To cum together, make it last

The foreplay was fantastic
We combined our tongues in kiss
The 69's that we performed
Were the best of oral bliss

We bared our souls together
With the touching of our skin
Felt the heat of our fulfillment
When my cock was fully in

Your tightness that surrounded me
As I was stroking in and out
The way that you responded,
The Main Attraction that I tout

For the years we spent together
The Main Attraction still remained
Each time, when it was over
Satisfied and fully drained

Now there's only memories
Of that other place and time
Of my life's Main Attraction
When we made love and you were mine

Cannot forget the Main Attraction
Our making love had that effect
Recollection of great memories
Still makes my penis stand erect

If I had it to do over
I would do it from the start
The life we had together
Was with love, and from the heart
All writing remains the property of the author. Don't use it for any purpose without their permission.
likes

1

reading list entries

1
Commenting Preference:
The author encourages honest critique.