Content Warning : Do you want to continue?
This poem contains content which some readers may find disturbing.
It is unsuitable for children or anyone who is easily offended.
YES
I am over 18 years old, I have been warned and I still want to read this poem.
NO
I don't want to read this type of content, take me back to the previous page.
deepundergroundpoetry.com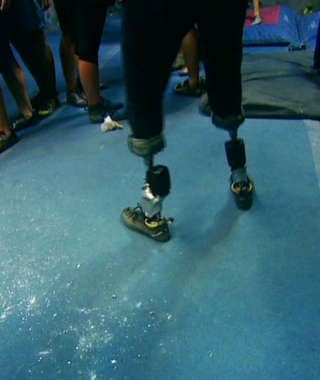 A Fuckin Robot

I want to be a fuckin robot
A man of steal or iron
I want two metal legs
To walk and kick ass with
To have that one last dance
To walk my wee dog Archie
To not get constant pity
And insults like retard
I want to be a fuckin robot

They say I am too old
They say I am not fit enough
They say I have the wrong mindset
They say it will be too painful
They say the farthest Iíll get is 10 paces
They say for me itís unaffordable
They say I am putting stress on the health service
They say whatís the point? Really?
Only those with legs could say all that
Only those that take walking for granted
Only those who run and play
Only those who dance
Could say all of that
I still want to be a fuckin robot

I want to be a fuckin robot
A man of steal
With bionic legs
Not a cripple
Who has to sit all fuckin day
Who has to sleep almost sitting up
I want out of this fuckin chair
I want off the fuckin scrapheap
Why should I listen to
A bunch of cunts
They can help and assist
Or get out of my fuckin way
Fuck those negative pricks
I am on a fuckin mission
I want to be a fuckin robot
All writing remains the property of the author. Don't use it for any purpose without their permission.
likes

8

reading list entries

1
Commenting Preference:
The author encourages honest critique.