deepundergroundpoetry.com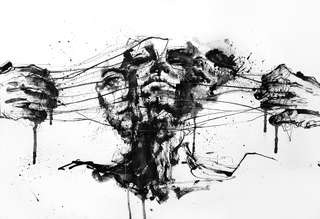 Jagged Thoughts
 
there's a particular beauty being    
extravagantly raw  
i move like a galactic ghetto word junkie  
easy speakin on some phunky shit  
don't mind being my quill's flunky    
if it will let me write off this alter ego monkey  
ridin my back..lookin over my shoulder to see what's next  
nosy lil fucker..he already recognized my truth  
i'm a bastard in every sense of the word  
   
you know nothing Tim Snow*  
   
damned right  
my god is the unknown    
and creation is her messiah  
so i feel free to spit words with no reference point  
except excerpts from that which funnels down my cranium  
while you quote scripture after scripture  
and pawn it off as intelligence  
without ever uttering one original thought  
of your own and i'm supposed to be impressed  
...  
i'm a jagged muthaphucka  
a puzzle you ain't built to put together  
real life is real life and reel life is reel life  
still tho...words casts spells  
spell words forward or backwards  
and still conjure illusions  
be the best projection-art-ist you can be i say  
..  
my epithets are quite different from yours  
tailor made for whomever may be my nemesis at the time  
innocuously sinister  
hey when in Rome...yeah you get it    
i spent 2 score 9 years harvesting this Scorpio's venom    
harnessing certain emotions    
cultivating my own cult to contemptuous perfection  
...  
my philosophy is a shape shiftier..catch it if you can  
here today gone tomorrow  
i'm gambling you'll assume i'm just rambling recklessly..  
cuz you know what you think you know  
i'm in straight jagged mode  
it's my personal Morse code'..a note to self if you will    
a memo posted against my    
cerebral membrane for future reference  
...  
   
looking insane can be a beautiful disguise  
drape it poetry and i am dressed to kill  
hiding my fuckery in plain sight  
givin back shots to my abstract mistress for all to see  
indecent exposure should be the charge  
but the collective 'we' decided to label it art    
so i was acquitted of my assholery  
and labeled a bootleg genius instead..  
   
   
   
   

All writing remains the property of the author. Don't use it for any purpose without their permission.
likes

8

reading list entries

1
Commenting Preference:
The author encourages honest critique.