deepundergroundpoetry.com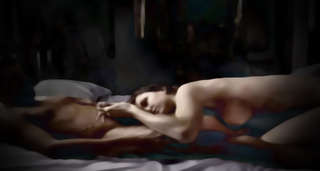 Warm Showers
The same hands that soothed the fevered brows of her now-grown children kneaded dough for the dinner rolls, served hot this evening. She had outlived two husbands and one child, but her smile could clear the river valley below her home of fog in seconds.

Her finger touched mine as she passed the plate and it felt like a cool wind through a crack in the door. I caught my breath while thinking of the stories in those fingers.  
I smiled while pouring honey over the hot buttered roll. Glenda's face softened as if remembering others who'd taken nourishment from her bread.  
 
Her voice, trained by years of song, led me across the span of her life. "I wish my last husband were here so he could hear of your adventures," she said as her voice trailed off. "He loved riding his bike, and oh, to travel again!"  
 
"You should go, I mean travel," I said. "Maybe bicycling wouldn't be the best way, but you could drive." She had kept herself in shape tending to her garden and obviously had years of life remaining.  
 
"I travel here in my home by having young people like you who are living it. Tell me about the mountains? How could you possibly make such long climbs?"  
 
Two hours and a bottle of wine later, we said goodnight. I had shared my bicycling adventures and she'd shared her life's story. We both laughed ourselves to the point of exhaustion. I knew I'd miss the road and have to return in a couple of days, but having a bed and warm shower was a nice break.  
 
I slept soundly on this, my first bed in a month. I noticed the door to my room was ajar and a breeze drifted across my bed, reminding me of the touch of Glenda's finger earlier. The air was cool and crisp. I dreamed of the road.  
 
Sometime in the early morning hours, I heard a creaking from the pinewood floor and noticed the door opening slightly. At first, I thought it was the wind, but the hallway light was on and I could see soft, white fabric like a curtain. Glenda stood still as the door opened wider. Her breasts dipped low but were beautiful casting shadows against the fabric of her robe. I wondered if she realized just how sheer it was. As she stood there, I stared at the outline of her where a lifetime had been lived.
 
"I heard you tossing and thought you might need some water," she whispered.  
 
"Thank you," I said. "Yes, some water would be good."  
 
She entered the room with a wineglass from dinner filled with water. Her finger touched mine as she held it out. A charge that passed between us, across years, across the births of her children, and loves lost. She stood silent as I drank the water.  
 
She held her hand out for the glass and I took it, marveling at its tenderness. I set the glass on the night stand. Glenda folded silently down beside me and I heard her breath deeply.  
 
"I'm sorry," she said.  
 
"For what?" I asked.  
 
"I'm sorry for dumping my life's story on you. There's been so much pain and loss. You don't need to hear all that."
 
"That's exactly what I need. You're real, authentic. We all have something. We all have pain and need to share it."
 
I couldn't see her eyes but remembered how they were lined with years given to family and yet, how clear they had been at dinner. Her eyes came closer and our lips met causing an emotional cascade in my chest as my month of self-imposed isolation melted away.
 
As we kissed, Glenda took my hand to her breast. It was full, soft, and warm. I thought of her rolls from dinner and tasted her nipples, wondering at the life they'd given to children and the lust her husbands must have felt for her. There was a warm saltiness in the taste of her and I became dizzy with desire, despite the thirty-year gap in our ages.
 
Glenda's fingers found their way to my cock and began to caress it softly. My mind flashed across the stories she'd told about her life as her hand began to stroke my firmness. I touched her forearm as she stroked and thought of the love her hands had shown across a lifetime.  
 
I could feel Glenda moving across me and saw her silhouette bowing over me as her hand continued to stroke. Without a sound, her head leaned down to me and I felt her warm mouth cover me wet and hot.  I could see the outline of her and thought of the richness in that shadow. I felt her tongue against me and thought of the words we'd shared at dinner. I thought of the words she spoke to hear husbands and children. It seemed such a deep gift to now use that same tongue to give me pleasure.  
 
Glenda rested her head on my chest as her hand coaxed the arrival of my climax. She smiled with satisfaction as my face contorted in pleasure and then total relaxation came across my body as I felt the warm flow cooling against my skin.  
 
"There now. Wasn't that good?" said Glenda. "We'll have to take a warm shower together in a few hours, but for now, just rest with me. And don't you even think about riding that bike anytime soon!"
 
I smiled down to her glowing face, and said, "Yes ma'am. Anything you say."
All writing remains the property of the author. Don't use it for any purpose without their permission.
likes

2

reading list entries

0
Commenting Preference:
The author encourages honest critique.