Content Warning : Do you want to continue?
This poem contains content which some readers may find disturbing.
It is unsuitable for children or anyone who is easily offended.
YES
I am over 18 years old, I have been warned and I still want to read this poem.
NO
I don't want to read this type of content, take me back to the previous page.
deepundergroundpoetry.com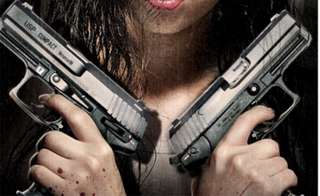 A Failed Insurgent (Gangsta Style)
I am going to laugh    
While you stand there with lies coming out your ass          
Don't worry trick          
I'm your worst risk          
I will bring the fight to you          
Cut you up, serve your cheap ass on Styrofoam          
and make your homies think its food          
Don't fuck with me, you not ready for this          
I suck hard dicks and machete stank ass clits          
Only bitches talk shit          
Fuck that.. my swag is certified and legit          
Burn your ass while my bullets pierce for the head shot hit          
Then dump your bloody meat in the Hudson River          
giving the sharks an underwater gift          
          
You better bring the bible and the motherfucking guns          
I love to see a bitch when he's about to elude me and run          
Before your feet hit the door          
My Glock pumping hollow points into your ass, some more          
No one here to save a fucking worm, squirming on my hook like live bait          
Chopping off your legs my rage refuse to wait          
I pay the po-po to look the other way          
Your last breath you will take is today          
Flying your ass all up in my Kingdom like you the godman man          
Gee, strip this pale ass joker where he stand          
Hand me my straight razor... death for a squealing bitch with me is never swift          
You flossing, like you the fucking it          
I let you breathe long enough... open your mouth, and taste Gee's panther's piss          
Hold this fuck's mouth open wilder and let my Asp crawl in and spit          
Stomping your teeth out, then cutting out your tongue          
Gaging your eyes making sure your feel the heat before the Urn          
         
Don't bring me those sissy ass Nursery rhymes you recited out a book          
I will sneak up behind you and slit your throat before you can even turn to take a look          
Bitch          
         
Your wanted to see how a doll feels          
You crazy fuck, you got your thrills          
Now, where the fuck is my money          
You feel the burn you mess with my dope, my bitches, my weapons, or my honey          
If I come looking for you I'm slamming          
I will implode your house, kill your family, while Gee deep inside your bitch choking her and ramming          
Then watch you dig your own grave to give you your just due          
Hell has no fury when using my tools          
I have not even went Nun Runner on that trashy ass          
Pistol whipping your creed all over DUP you will never last          
Gee, string this begging fuck up          
Cut his testicles first and let his ass bleed into my cup          
Shh... you make one more sound          
My pet Scorpion is going up your nose before the shit really goes down          
You think you could talk about me like a spoiled kid          
I peeped your manifesto, bitch, you still in Pampers babbling like GI Joe trying to work that fake ass façade from under your lid          
I am the cunning Ego, the deranged Super Ego, and will take you out with my psycho ID          
Writing blueprints about what you going do… if, and when you never get the time          
You best you watch the silence of your enemy when you stepping on their land mine          
Blow up this trap house          
I'm the Kitty who ate the Canary and the motherfucking mouse          
Kill this faggot          
My Queen… What you want me to do with his body          
Waterboard his ass then hack it… keep his fingers and head, leave the rest for the maggots          
         
Stupid Motherfucka          
Gee…get the crew on the line it's a war declared on our turf          
Fuck peace and nice words          
         
Gee, this motherfucker apparently do not know who the fuck I am          
Follow his ass          
I got you Queen          
If he moves sideways take his out like Son-Of-Sam          
Me and my boys do not get caught up in jams          
You want me to take care of him now          
After we get his dope, weapons, and money.. the only thing I want to hear is a series of Pow-Pows          
Here that fuck comes          
His crazy ass done went and bought some words.. this cracker thinks he already won                  
Gee, bury that whack ass fucker.. dick sucker.. and clean this shit up and hurry          
I hear sirens and you know I keep my business on the down low          
That's for sho          
         
Naw bitch… you did not get that internal memo.. felines have nine lives          
I went in front of the judge, got off, if not, his wife and kids would had felt the burn after my weapon popped-popped          
You a punk ass freak.. My time is wasting in the Bahamas on my yacht with your money, your dope, and your bitch while she's licking all up in my creamy peach pie          
No limit for me but the sky          
You know how this plays out, carving my initials in her back my, 'thank you' token          
Then tossing her dead ass in the ocean          
       
You lose again... like way back when      
I do not believe or exist, therefore, I am... Ghost          
Gee, kerosene his ass and watch his skin, and bones burn to nothing but a faded joke          
Acid... the rest          
And leave my initial calling card letting his boys know they boy been dealt          
Don't worry, his next of kin will get a rose from me before my hand around her neck presses, her pipe as I squeeze until, she chokes    
Right before she sees my Glock smoke          
         
Gee... did you make sure that fuck was six feet under          
I have no time for peek-a-boo evidence or blunders          
My Queen... that fuck is eating dirt          
You brought the pain          
Yeah... but not the hurt..          
That comes when I wipe his crew out.. and I know who to start with first          
You up for this My Queen... you retired from this life          
         
Just as sure as the DEA numbers I got to fix a gangster when he comes to me with his hush creeds          
after taking care of his personal strife          
         
Gee.. let's get the fuck of out of here          
This not over, it's time to bring the fear          
Don't bring your dead ass to New York          
Me and my boys will slaughter you where you stand and then roast you like pork          
         
         
PLEAE READ THE RAP BATTLE IN ITS ENTIRETY  
https://deepundergroundpoetry.com/poems/423763-rap-battle-spittin-hairs-skc5-vs-mtp/
All writing remains the property of the author. Don't use it for any purpose without their permission.
likes

8

reading list entries

1
Commenting Preference:
The author is looking for friendly feedback.