Content Warning : Do you want to continue?
This poem contains content which some readers may find disturbing.
It is unsuitable for children or anyone who is easily offended.
YES
I am over 18 years old, I have been warned and I still want to read this poem.
NO
I don't want to read this type of content, take me back to the previous page.
deepundergroundpoetry.com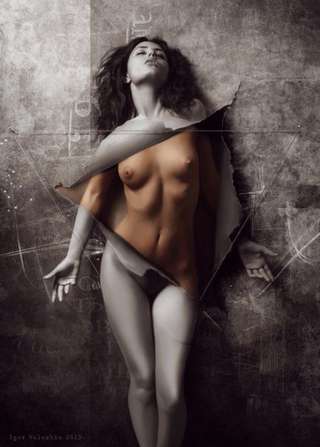 the Lust of Poets
with the simple act of exposing your voluptuousness,
naked & radiant in the moonlight, you declare war on the
serene night.  my angry artillery salutes, & thusly weaponed, we
engage in a battle in which there are no losers. we advance toward
each other, w/no thought of retreat, only of rapturous orgasm.
our battlefield is clover & dew, scented w/rose & jasmine.

you spread your firm legs, like pillars of coliseum. I squat & gaze upon
your pleasure treasure. my commanding finger probes the button of
your belly, & you moan like a banshee. I spread the petals of your
flaming flower & penetrate, firstly flicking the beckoning beacon of
your cl*t w/my tongue, then allowing tongue & fingers to explore the
mysteries of your womanhood like a conqueror. euphoric, you hear
salacious poems chanted by cunnilingual gods. you scream as your
c*nt washes my face w/camphor & nectar.

you push me violently onto my back, & suck my stormy stallion, wetting
it, & whetting my desire. you straddle me & crouch, enveloping  my rod
w/your determined p*ssy, greased w/peppered honey. thrusting, rise&fall,
in-out, in-out. beautiful, naked whore-demons encircle us, shouting
"f*ck her!  f*ck her, you dog!" the sky flashes & booms, as my c*ck cannon
fires creamy volleys into your tunnel. your eyes squeeze shut, your sighs fill
the air, as you experience a delectable drift into nirvana…

in the shimmering afterglow, sated & victorious, we lie in each other's arms,
& surrender to somnolent silence.

All writing remains the property of the author. Don't use it for any purpose without their permission.
likes

4

reading list entries

1
Commenting Preference:
The author encourages honest critique.