Content Warning : Do you want to continue?
This poem contains content which some readers may find disturbing.
It is unsuitable for children or anyone who is easily offended.
YES
I am over 18 years old, I have been warned and I still want to read this poem.
NO
I don't want to read this type of content, take me back to the previous page.
deepundergroundpoetry.com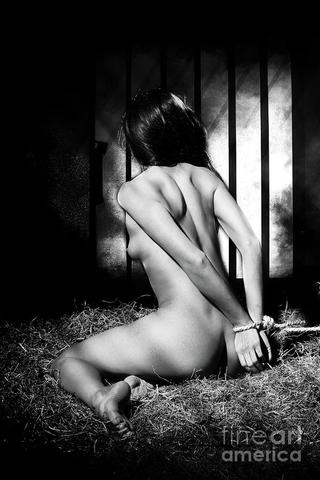 Sub Miss Eve
spank me.
let's begin gently,spread me
like a shawl of flesh over your knees,
flail my wanton buttocks
with your masterful hand
as i emit moans of anticipation.

chain me,
suspended from a ceiling beam
free of gravity, feet dangling
inches above the floor.
apply the fluted cain & the whip,
raise the desired scarlet welts,
whose vexatious identity i do not endorse:
instead i name them honor,
and i name them pride.

display me,
naked, repugnant slut that i am,
to the crowd that amasses in the chamber,
their faces veiled with sinful delight
as they observe the loveless seduction
that i beg for.

strangle me.
grip my throat with your power,
as you & the brutes behind you
gangbang me repeatedly,
worthless & soulless whore of babylon.
take me to the brink of death
but not beyond, as death would
only steal me from pain's pleasure.

and after,
when your depraved appetite is sated,
and every ounce of evil is drained
from your black heart,

then


pity me.


All writing remains the property of the author. Don't use it for any purpose without their permission.
likes

9

reading list entries

2
Commenting Preference:
The author encourages honest critique.