Content Warning : Do you want to continue?
This poem contains content which some readers may find disturbing.
It is unsuitable for children or anyone who is easily offended.
YES
I am over 18 years old, I have been warned and I still want to read this poem.
NO
I don't want to read this type of content, take me back to the previous page.
deepundergroundpoetry.com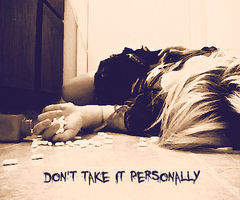 Reaper, Take Me Away
I found some peace tonight

I swallowed all my pain

Accused of telling the truth

Sifting through the smoke and lies

I found my way out free

Sitting in this dark cold room

On old wore down wood

Ticking my fingernails through the grooves

I wait.

For it to come back and consume me

I know I can't hide that long,

As I hear the wings whisper across the windows.

I know the reaper is close.

I can just see out in the clear night sky.

The Willow tree is even weeping for me in the breeze.

Shouldn't I be scared, shaken?

No, I am just too ready for this.

I can't possibly be in the wrong,

I was the one who got my innocents stripped from me.

I feel dirty, disgusting and used.

I damn near scoured my skin off, especially between my legs.

This is what I get for telling the truth,

Liar is branded on my forehead.

Trying to scream but that dirty hand covers my mouth.

Hopeless has to be the worse feeling.

I sink down even more, fading away.

All my stress just melts off my body

And I become comfortably numb

Waiting for the reaper,

to wrap me up in the black silk blanket.

Take me away... Take me far from here..
All writing remains the property of the author. Don't use it for any purpose without their permission.
likes

5

reading list entries

2
Commenting Preference:
The author encourages honest critique.