deepundergroundpoetry.com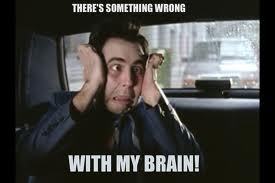 There Must Be Something Wrong With My Brain ..Right?
"There Must Be Something Wrong With My Brain...Right?"
By Marcus Cooke

Sometimes People Fuck up  
some more then others  
how i long for  
another chance  
to be a better person.  
 
I used to think other people  
were to blame  
that life was a incredibly  
long game of snakes and ladders  
with most of the bits missing.  
 
That these so called  
friends and family  
were always right  
and i was always wrong  
now a lifetime later  
i realize  
there was never any  
wrong or right  
black and white  
up or down  
"boy turn that  
frown upside down"  
my ass.  
There must be  
something wrong with my brain?  
 
Just because i don't fit in  
quiet instead of loud  
just another lost face  
in the crowd.  
 
Is it fair to hold that against me?  
just because from your sub standard  
school education,  
your definition of society  
dictates that i don't fit the bill?  
My Neurons have turned to brandy  
transformed to form a bulbous pulp  
which then clearly leaked down my left nostril  
does that explain why i always  
fuck up.  
 
Watch me loose control  
and dance on metal tables  
wearing a cheap plastic  
medical gown.  
"No more smarties  
for that man,  
Matron"  
 

Step away from darkness
head towards the light
But There must be something  
wrong with my brain..  
...right?  
 
 
 
 
All writing remains the property of the author. Don't use it for any purpose without their permission.
likes

7

reading list entries

0
Commenting Preference:
The author encourages honest critique.