deepundergroundpoetry.com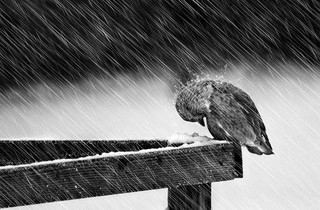 "My Foolish Freind, For When You Come Out Of The Rain"
Always
the loner
the laid back stoner
smoking his way
through backie
and  half empty
printer toner.

The Marlborough messiah
with his pants on fire
the truthful liar
perched on his sofa
to some his life
has been wasted
pasted on a canvass
of infinite complexities.

Always
the wise monkey
perched on his sofa
a spiff in one hand
in the other a ice cold soda.
I guess you were chasing fire
my foolish friend
i will write the following
upon your headstone
it will read..

"All that you were
be as it may
all that you are
grow wings
and fly away
your coming
back one day
your coming out of the rain.
all that you are
be as it may
all that you were
grow legs
and run away
you're coming back one day"
All writing remains the property of the author. Don't use it for any purpose without their permission.
likes

6

reading list entries

1
Commenting Preference:
The author encourages honest critique.