Content Warning : Do you want to continue?
This poem contains content which some readers may find disturbing.
It is unsuitable for children or anyone who is easily offended.
YES
I am over 18 years old, I have been warned and I still want to read this poem.
NO
I don't want to read this type of content, take me back to the previous page.
deepundergroundpoetry.com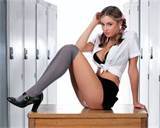 School girl
You think your logic prevails,
but with a firm shove against the wall, and a hand
around your neck, your resistance fails, and
you cave as a good girl should.

I pull your skirt up and
Our tongues dance
to the sound of
you whimpering at the sensation
of me slapping your ass.

Spread your legs a
little more. I wanna
feel my dick slide up
your thigh. It slides up and down
your soaked peddles.
With each passing
stroke, your lips tremble and
each repressed
cry becomes inevitable.
Scream a little louder, darling.
There's No need to fear,
Your Daddy won't hear.

wrap your thighs around my waist, and
feel my dick slide
into your tight pussy.
Bury your claws into my
neck, and tell me that I own you.

I fuck you hard and
without any shame,
You scream my name.
mmmm,
My naughty cum slut just
came.

Walls shaking, body convulsing,
I'm hitting the sweet spot from
within your sex. Back arching,
legs thrusting, my
precious school girl is climaxing for the
first time.

You've had your turn, now
let me fill you with my cum.
Along comes a tight spasm, out comes
my hot seed, violently shooting into you.
Your pussy swallows me whole.
Exhausted and entangled, the
smell of your sweat still lingers.
That's when I let you lick
the pussy juice off my fingers.

Don't be ashamed,
you've just been tamed.
Against the wall I feel
your heart leap.
I love the sound of hearing you weep.
With a kiss, I draw you
near, and with a messy head upon
my neck, I know forever you are
mine to keep.
Do not fear, for you
have just been bound.
Care for another round?


All writing remains the property of the author. Don't use it for any purpose without their permission.
likes

2

reading list entries

1

Commenting Preference:
The author encourages honest critique.