deepundergroundpoetry.com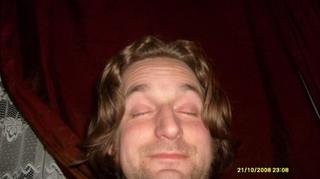 "Psyche-Delia Smith And The Art Of Making A Good Space Cake"
Oh Delia this time you have outdone yourself
Just for this occasion  
You have created another famous  
Psyacelic cake creation  
One bite and I am there  
The air bubbles becomes chocolate  
Melting into a plexus of nothingness  
Bubbles pop into interplexing harmonics of sound  
Horizons of vibrant colours pulsate like quasars  
Over a dyeing star  
Planets dance like fire over a thousand exploding suns  
Storks grow from the ground and perform multiple dance routines  
At that moment I take leave of my body  
Rising up past the ceiling though the flat above  
Into space, into infinity and beyond  
Existing between time and space  
Losing all linear perspective.  
Like energy i am siphoned back to my own body  
I am her and her me  
Covered in crumbs and bits  
"Shit I got tits" 
The montage ends  
The ride comes to a complete stop  
Everything returns to normal or does it?  
Bollocks to Mr Kippiling  
Psyadellia smith makes extremely good space cakes!!
All writing remains the property of the author. Don't use it for any purpose without their permission.
likes

3

reading list entries

1

Commenting Preference:
The author encourages honest critique.