deepundergroundpoetry.com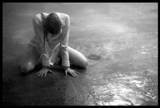 The Rain.....Again
"Here comes the rain again falling on my head like a memory...
Falling on my head like a new emotion" ( Annie Lennox)


Last night....it rained.
As I watched the opalescence of each
drop cascade down my window pane,I sought
refuge inside my thoughts....and found
no peace there.
Only a string of discombobulated thoughts,
feelings, and emotions...and something else
I could not identify.

As I leaned my head against the cool of my window
I watched the rain wash away the ring left by my cup
on the porch....then I knew,
I needed the ring left around my heart
washed clean too.
As if under the control of the Elements themselves,I
was out my backdoor,wind blowing furiously as each drop
hit my face....like an ancient remedy.
My white night gown, now clinging to my flesh
I breath deeply,exhaling my angst and frustration from
this past week,as my soul unfurled.....
I began to weep....
Tears hot in contrast to the pellets that drenched me
Locks .. thick with the weight of this barrage,
I threw my head back and wailed at the moon...arms outstretched
as I fell to my knees and let the rain wash away....
My heart ache.

" Oh Baby talk to me ....like lovers do" ( A L)

Now I have transformed, as every fiber of my being swells
like a tidal wave liquifying my essence washing over my
thoughts...and pouring out all the emotion I have swallowed
for days now.
As I lay....spent
upon the back porch floor, letting the rain continue to flow over and around me......and through me .

Somehow,I finally find my legs,and raise myself to a sitting position,as the rain knowingly begins to subside.
As I rise I look back to where I was laying on the ground and see my outline as if my pain left
an indelible mark upon the ground.
Now drying my locks, back inside my house
I feel a sweet release....As the waning moon winks at me
I feel an echo in my soul... and wonder if
My true soulmate.
Can feel me now.
All writing remains the property of the author. Don't use it for any purpose without their permission.
likes

4

reading list entries

1
Commenting Preference:
The author encourages honest critique.