deepundergroundpoetry.com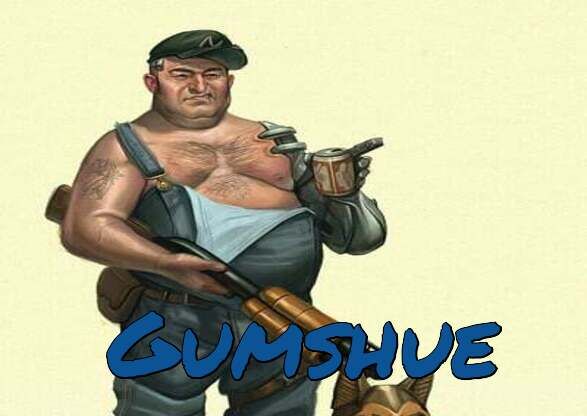 GumShue
It all started several months ago when I, Envious Gumshue, was given my pink slip at The Toadstool Inn restaurant. You would have thought that it would have come with lace, but it did get my attention. One has to understand, what "The Stool" lacked in etiquette, it made up for with chewing gum stuck beneath the tables. However, on first entering, you got the feeling of silence as if in meditation. Humming could be heard wafting in the pungent aroma of weeks-old bacon drippings. As if Gregorian chanters, roaches were smacking their gums, humming.

It all started at 6:00 am when some elderly woman came in and sat at the Presidential Booth, it was named that, seeing as how Woodrow Wilson had flown over the town once. She asked if we had sturgeon, and I guess I came off sarcastic by answering, "Do you want your tonsils removed or some frigging breakfast?" I was docked one table for that and penalized seven napkins.

Moments later, the mayor and his harlot (Carlotta) were sitting at table three. She ordered two sunny-side-ups, three strips of bacon, hash-browns with cheese, two biscuits with sausage gravy, a serving of grits, small orange juice, coffee, and five antacid tablets. The garnish was thrown in. It was catnip, mistaken for parsley. Needless to say, someone had to be fired. Seeing as I was the one who tackled her and broke her right clavicle... after she went ape shit, meowed and barfed in a bowl of the Arch Bishop's homily at table 666, I was the one.

The previous night I had spent in her loving charms, costing me forty-five dollars, five of which was for a condom from her dispensing machine on her headboard. I started out by passionately kissing her... my tongue sliding over to her right ear. In the heat of the moment, I was panting and feeling my cock throbbing. I was leading my tongue downward, exploring her neck before I realized my tongue was caught in a link of her necklace. In a panic I jerked my head back, stretching my tongue out flapping my arms... making God awful sounds. Some part of my anatomy made contact with her pelvic region.

She has a unique way about her. When you touch her clit... her right leg shoots straight up like a pop-up toaster. I felt like the Pillsbury dough boy with a hard-on. She called down to the motel front desk and they dispatched a 911. After using bolt cutters to free my tongue from her necklace, the medical tech applied a tourniquet to my tongue.

She later informed me that due to the cost of the foil wrappings, (the condoms were changing logos), she had to raise the cost of pussy. I told her if pussy got any higher it would be up to her navel.

I was planning on quitting the restaurant anyway, seeing as I was graduating on the Honor Roll from Lester Erwin's, Feed Supply and Home Correspondence School. I majored in Law Enforcement and Jaywalking, receiving my degree in eight days. This was covered on the GI Bill which I applied for. The woman at the front desk asked if I was allergic to barium. I was thinking she was a southerner and said, "I ain't burying anyone."

My first position after graduation was as a night watchman at a chicken ranch. In Nevada, I don't have to tell you what that is. I was retrofitted for my uniform and high-top tennis shoes... then went to target practice with three cans of pepper spray. I couldn't hit the target, but I did squirt with my mom, who was there to give me moral support. She had to have her eyes washed out and still has circled around her eyes from the can of Bud Lite I used.

That night I was patrolling the premises, and I heard a commotion from within the building. Being a rookie, I wasn't about to take chances, so I radioed in my superior.

"Officer Gumshue, 1st Class, requesting backup."

A moment passed and then static, "What's the problem, Gumshue?"

I whispered that there was a lot of noise from within and my boss asked, "what?"

"Sort of like clucking," I said.

"One or two clucks?"

"Two, I think."

Sounding a little putout, I think due to stress, he told me two clucks meant the chicken laid two eggs. I was fired for disturbing the peaceful clucks of 26,500 frigging chickens after I entered the building and screamed, "Stickem-up. you're all under duress." In Wyoming, a chicken ranch is just that.

To release my stress over being terminated after only three hours on the job, I masturbated in the quite of my second floor bedroom at my mom's house. I have a different way of getting off that may not be suitable to everyone. First, I wrap a long rubber band twenty-eight times around my testicles, twenty-nine if leap year. Second, I tie the other end around the door knob. Third, I slowly take twelve steps backwards, whispering, "You can do it."

Let's just say, that the rubber band broke and the snap and recoil threw me out the dormer window. However, after first bouncing off the roof my cock erupted and knocked a bird's nest out of a limb of the neighbor's prized elm tree. Never one to give up, I knocked on the neighbor's back door and asked for a drink of water while the power company was trying to talk the bird out of my balls.

Prior to the police getting there, my mom had stuck her head out the door saying, "Sleet falling in buckets." I was cited for disturbance of the peace because some damn fool made an idiot of himself calling the radio station. I told the fucker I wasn't' a UFO.

Two Weeks Later

I received my answer from a town in need of a Chief of Police services. After my book learning and without equivocation, I knew I was the man for the position. I had applied for posts in several venues that were seeking police officers. Hearing from the town of Dysentery, Idaho (pop 873) after sending in my application and furnishing them with my portfolio and resume.

June 14--June 17 1986... Bouncer at Ralph's House of Dog Biscuits

Aug 3rd--Aug 16th... Blow Dryer at Thelma's Hare (rabbits) Salon

Oct 2nd--Oct 5th... Asst. Bouncer at Ralph's House of Dog Biscuits

Nov 17th--Nov18th... Waiter/host /chef at Toadstool Restaurant

Dec. 4th--Dec 4th... Night Watchman for Joe's Rent a Cop

I was thrilled, but I knew my good friend Adagio Sabadicus in Savannah had put in the good word for me, being I had a subscription to his monthly mutt (smut) magazine. Before leaving mom and the city, I paid Carlotta another visit at The Cumsquat Motel. This time she asked that I avoid her clit because a chiropractor just left after he had made an adjustment to it, but suggested skinny dipping. Trying not to embarrass me she said that if my prick didn't touch the walls of her vagina, it was called skinny dipping.

"What the hell does Virginia have to do with getting some pussy?"

~*~*~

It wasn't the best of streets, it wasn't the worst of streets... it was the bumpiest of streets. Seeing as how the only street is a circle and one-way, I passed my new office up four times before I found it because it was against the law to backup. Once the formalities were taken care, I swore an oath. It was similar to that of the scouts and mentioned, rope knots and assisting people at the local grocery mart by pushing the cart.

My office consisted of a wooden desk in the storage room of the craft shop but came with a deputy and secretary. The deputy (Morp Smite) had a difficult time distinguishing right from left. He had tattoos that began with R's on his right arm. The secretary, Ginger (Tits) Snapp had tatas that resembled the Hindenburg blimp. In her dossier she was also the fat lady that sang when it was over. She sang Acapella, The White Cliff's of Dover as she sucked penises.

In private she told me that she broke up a pair of men performing fellatio on each other a couple of nights earlier in front of the Sud's Bar, and I quickly responded, "Let's keep Horatio and Shakespeare out of our fair town." We had more important things to attend to."

One of the benefits of being the Chief, was driving the police vehicle home. The mayor had told me it was at the garage getting the tires rotated. I couldn't wait to put my foot to the pedal and hear that engine roar.

Several hours later I let out a shout, "WHAT THE FUCK IS THAT?"

Morp stood at some semblance of attention, next to my chase vehicle.

"It's your Rick-Shaw, Sheriff."

It was on a bicycle frame with an attached cart, equipped with flashing lights and a megaphone to scream into... an imitation of a siren.

"If you think the Chief of Police is riding around in that, you are out of your freaking mind." I was making that statement as Morp was peddling as hard as he could. I was in the coach making siren sounds through the megaphone. Ginger had issued a pot alert for down the street, and I was in need of a new pressure cooker. On the fourth trip around the circle and passing the pot house three of those time, I told him to apply the brakes sooner. He took his feet off the pedals and scraped the bottom of his shoes on the pavement. This, creating friction, set the coach-carriage afire.

The Mayor was pissed, because he had borrowed the megaphone from the local school.

Later that afternoon, when I return to the office from lunch, Ginger told me to leave the front door open. "Morp is in the back masturbating, Sheriff, and will do the hat trick in a second."

"Why cant he chew out here?"

As she tried to tell me the difference in masticating and jacking-off I felt a SWOOSH go by me. It was Morph as he was slung by a broken rubber band through the back door and out the front.

First, sliding on his naked belly half away across the street. Second, hitting the curbing and bouncing. Third, going through Earl's Barber Shop window and landing in a sitting position in a chair. Earl asked if he needed a trim.

The following day, less a chase vehicle, I ask Morp if there were any Escorts in town. Seeing as I was now in need of a ride he pointed me to the Lugnut Garage, as he knew they had a few Escorts on the lot. I ambled up to some codger who was charging the battery on someone's pacemaker. "Do you have any 1994 Escorts," I ask? He did some figuring in his head and said there was one in the back bay being fine tuned.

I started walking toward the garage and heard all the clanking and coughing that old cars make when in need of fixings. Approaching the bay, I saw this red Escort up on the rack. She was getting her rear end lubed with axle grease. She looked familiar behind her sun glasses, and those large tits swaying. The mechanic put a few shims in her pussy, saying, "These will tighten you up."

"Is that you Ginger".

"Of course it's me ya damn fool, stick your hands in my twat and clap."

So I did.

"Tight ain't it?" Then she starting gyrating her large ass, and the hose fell out and starting swinging around like a snake in heat spiting out rear end grease. I changed my mind and bought a 1954 DeSoto.
All writing remains the property of the author. Don't use it for any purpose without their permission.
likes

0

reading list entries

0
Commenting Preference:
The author is looking for friendly feedback.