Content Warning : Do you want to continue?
This poem contains content which some readers may find disturbing.
It is unsuitable for children or anyone who is easily offended.
YES
I am over 18 years old, I have been warned and I still want to read this poem.
NO
I don't want to read this type of content, take me back to the previous page.
deepundergroundpoetry.com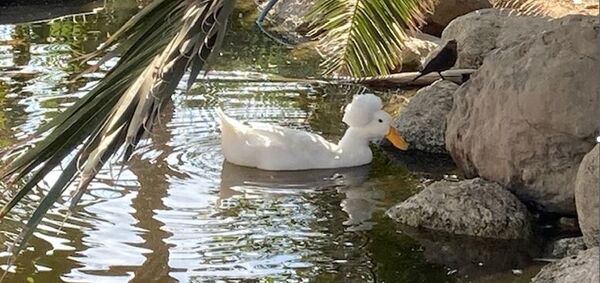 Fancy Duck


Fancy duck, oh fancy duck Iíve got to tell you something
Your feathered head is so preened and primped it left me awestruck
Itís like youíve stepped out of some surreal sequence of a dream
Youíre like the freshest dude here who looks like he donít give a fuck

Every time I come to this farm I stop by and take your picture
I feel like we have some kind of special inter-dimensional connection
While other children play and point you stay calm and cool
Itís as if youíve lived a hard life and now dwell with reflection

Yet you fancy duck with your quaff, your bouffant, your feathery-do
You just chill there in the pond floating away enjoying your day
I feel like Iíve seen you somewhere else before with that pompadour
But I guess itís just me and my imagination letting me fly away


All writing remains the property of the author. Don't use it for any purpose without their permission.
likes

4

reading list entries

0
Commenting Preference:
The author encourages honest critique.