Content Warning : Do you want to continue?
This poem contains content which some readers may find disturbing.
It is unsuitable for children or anyone who is easily offended.
YES
I am over 18 years old, I have been warned and I still want to read this poem.
NO
I don't want to read this type of content, take me back to the previous page.
deepundergroundpoetry.com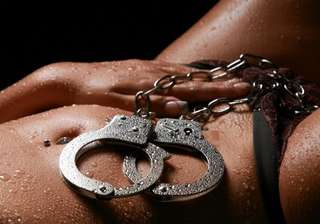 Out On A Limb...
Playing the melodies of my philosophical mind, showers of ecstasy on his time        
My lips taking his length down
His head bent back, his hissing, such pleasure in the chorus of that sound
Escaping water droplets rolling down his chest, touching my lips, now wet          
In the spaces between his manhood and my mouth the drips collide        
Tasting him and the sweeten intoxicant, double fingering myself, swinging them side-to-side          
Waiting for his monstrous nutt  
Head bobbling, gagging, mouth milking the sensations, drooling from the suck                
A blessing to be his luck                
Mmm…making him grunt, jacking his width… rolling my tongue over the tip          
Paradise between my soft folds, my passion, it's the real deal              
       
His addictive loving rules the quite core of my mind                
These arms, this willing body takes care of those fantasies by my designs                
A feen, in the sheets I can be…          
Giving in to him, when he's tenderly seducing me            
He whispers in my ear, he's craving my essence like the flavor of his dessert        
Loving when I am on his face, his tongue thrashing to my clit, making my pussy squirt              
Music to my ears to hear him begging for this                  
His nostrils kissing this slit                
In his groin hairs he smells the juices from my wet abyss              
       
Palming my ass, pulling me down farther the silk covering sheets                
My legs draping his shoulders, my slit his tongue feasts                
His oral fetish coveting my kitty cat, climaxing as his silken treat              
Palming my breasts, arching my back                
Swallowing my pussy juices, no time to give each other rest                
Mmmm… his tongue lashes I know best        
Already has me moisten, wet                
       
His emotions I share, bedazzling him, coveting his intellectual head                
My scent, my body, my pussy rules his bed                
Pouring honey all over my skin                
His tongue catching the droplets...mmm…my dewy essence rolling down his chin                
The weakening feeling making my head spin                
Licking the runaway golden stream completely off my skin                
       
Centering himself between my thighs, smearing my lips with my taste        
A quick kiss before I open legs wider and let his desires bathe        
Housing his throbbing erection        
Steering his girth inside me without hesitation        
Oh God, his dick reeling inside me, what a beautiful blending knack                
For our bedroom late night lustful snacks
           
My body, my flesh, his undercover wicked sins                
His dick keeping this pussy wet as he's driving in and out then back in again              
Once his tongue parades all over me                
I'm the woman he kneels for on his knees                    
Nipping at my tits then coveting my lips              
       
Draining his energy down to a pulsate, gyrating, off the release of his flowing leak                
His grunts turning me on as he's diving deeper and deeper inside my tight pink                
Labored breathing, slow thrusts worshipping in this creamy butter rum                
Riding the throne of his King's dick making him jerk then once again cum        
Snatching his elongation out, his drops layering my nipple peaks          
Pumping his dick for the last escaping seeps        
   
Oh, baby yes...  


#BlackHistoryMonthMyWay
All writing remains the property of the author. Don't use it for any purpose without their permission.
likes

6

reading list entries

2
Commenting Preference:
The author is looking for friendly feedback.