Content Warning : Do you want to continue?
This poem contains content which some readers may find disturbing.
It is unsuitable for children or anyone who is easily offended.
YES
I am over 18 years old, I have been warned and I still want to read this poem.
NO
I don't want to read this type of content, take me back to the previous page.
deepundergroundpoetry.com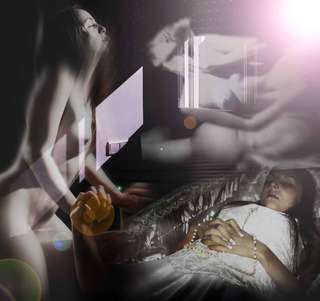 How Do We Die?
How do we die?
Shouldn't it be like
entering a large empty room,  
darker than any darkness we've known?  
 
Does the mind hum with thoughts in those moments  
after the body ceases? Does it hover above us  
like a spirit, sorting and filing every moment of our life  
so that we're ready to enter the silence?  
Does this hovering of the mind give rise to  
rumors of life after death?  
 
Will I feel the touch of favorite lovers?  
Will I see my daughter's face?  
Will I taste my father's lusts and know past hurts in that final sorting,  
or will I remember only the joys of life?  
 
Do those passions that sustained us in life, sustain us somehow  
in our final moments? Is the singer lifted in song  
as she passes the threshold?  
 
I smile and wish that the soft purr of orgasm  
would accompany me in my crossing.  
I'd look deep into that darkness and feel the  
cascading of pleasure through my center once more  
before pouring out all that I am or might have become.
All writing remains the property of the author. Don't use it for any purpose without their permission.
likes

4

reading list entries

2
Commenting Preference:
The author encourages honest critique.