Content Warning : Do you want to continue?
This poem contains content which some readers may find disturbing.
It is unsuitable for children or anyone who is easily offended.
YES
I am over 18 years old, I have been warned and I still want to read this poem.
NO
I don't want to read this type of content, take me back to the previous page.
deepundergroundpoetry.com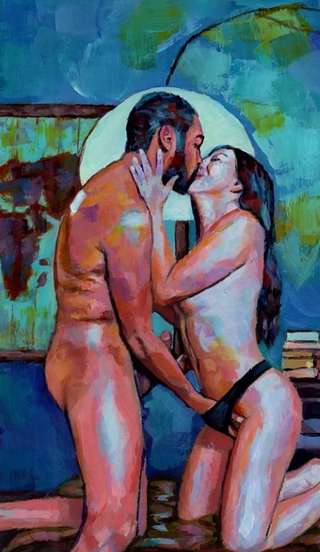 ......A Sensual Elegy (Can I Cum Inside?)
 
…....those thighs (open wider)    
   
"In your hands.    
Sliding the warm black tongue highway,    
Your hands there, so smooth, between my legs    
Feel the world open wider....(Turning me inside out)"    
broad shouldered brother    
   
my breathless. whisper.......yet 2 shout the words    
   
a dark visualization,    
my distant eyes see    
strong, sensual, sinewy branches    
swinging in the wind......( wanna' shake your tree)    
   
wet nectarine    
my verbiage may appear crass and obscene    
and I almost apologize    
(realizing that my soul    
catches fire as......)    
   
"my pistol pushes past the lips-    
there is no need to resist    
the sensuous, erotic stretching    
as I overtake your womb    
feeling my head, feeling my shaft.    
Not knowing whether or not    
to cry or laugh    
the core of your soul    
pagan spirits seek control    
trying hard to make room    
as I rotate the earth    
generating a luscious rhythm    
in, out and in again    
making us both begin to swoon,    
starting to grind    
two as one, fading.......losing our minds    
squeezing the trigger    
my gun starting to blaze (feelin' my release a "Deep Purple Haze")   
   
pleasure (losing our religion)    
   
cracking the nut,
feeling my throb,    
turning the knob    
recognizing the approach of a funeral pyre,    
burning inside her    
   
cumming, " just like a prayer......"    
   
the tasting of your 1st fruit    
   
"won't you let me cum inside?"(for the last time.....)
All writing remains the property of the author. Don't use it for any purpose without their permission.
likes

1

reading list entries

0
Commenting Preference:
The author encourages honest critique.