Content Warning : Do you want to continue?
This poem contains content which some readers may find disturbing.
It is unsuitable for children or anyone who is easily offended.
YES
I am over 18 years old, I have been warned and I still want to read this poem.
NO
I don't want to read this type of content, take me back to the previous page.
deepundergroundpoetry.com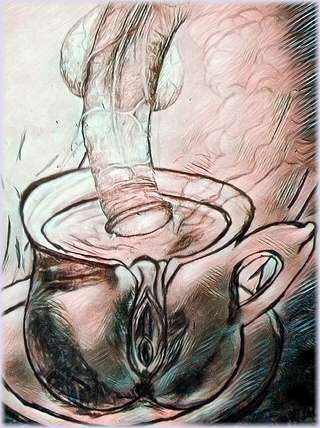 Before The Fall...................
 
......coming and going    
"all by itself"    
stirring all the senses    
up, down,    
moving my body    
right to left    
so high 'till I never want to come down    
a cacophonous explosion    
'til 'ner do a sound    
   
what you do to me......    
   
the capture of power    
before my hands push you away    
   
your wry smile    
a sign of your own self-arousal    
as you grip my balls ever tightly    
and a firm tug begins the espousal,    
a euphoria, this feeling escalates    
'ner do go away    
   
what you do to me.....    
   
the fervent stroking of your hand    
begins the tingle of my arousal    
this nether-worldly sensation    
heightened stimulation  
right here in our "now  
"milking me"  
woman......    
   
what you do to me.......    
   
straining to open my eyes    
yet I still can't see    
heart pumping    
cock throbbing  
the incessant "tingle"  
running along my scalp,  
my neck, my back    
   
straining to break the chain, tryna' break free    
   
(streams of Jupiter in the cusp of Mars dropping)    
wanting to go    
Dying to "cum"    
signaling a release    
this unrelenting pressure    
   
that will not cease (until I get me some of what's there between those delicate creases)    
   
pounding thoughts in my head    
of an impending attack    
apply pressure....    
gonna' spread your pale alabaster thighs wide open    
"phuckin' ya', nuttin' ya'    
and I won't turn "bareback"    
as she pumps my root raw
more power inside "her" hands    
 than one man    
      has ever saw    
   
what you do to me.....    

All writing remains the property of the author. Don't use it for any purpose without their permission.
likes

1

reading list entries

0
Commenting Preference:
The author encourages honest critique.