deepundergroundpoetry.com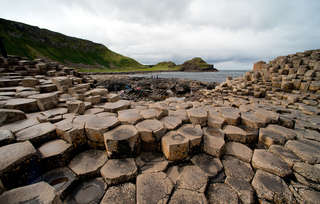 Finn McCoo's Wife
Finn McCool's Wife


Promenades with her gentleman caller,
gathering up her smock
with her skirt and shift underneath
and leaping from hexagon column to column
of interlocking extruded basalt
like Q*bert and leading her latest suitor
and rival to husband, would-be
usurper
on, up and down
the terrain of a seafloor eruption,
undulate carpet like
the bright stainless steel pins
of a three-dimensional novelty toy
projecting the face of a child
whose delicate skin
still bears the sensation of
each cold pixel
impressed
to record a visage
as placid as Tutankhamen,
with features
exaggerated and thick,
an out of proportion death mask emoji,
or bar graph depicting
the geothermal event that occurred
eons ago,
far below, under the breakers,
bequeathing a family heirloom abounding and teeming
with fossil remains
of bivalve, crustacean, and cephalopod
exoskeletons. Every
projection of igneous rock
a separate fissurring
down
as the skin of the cumulus blossom of magma
escaping the vent on the cold
briny floor
was
suddenly cooled,
and a pattern of cracks on the surface
imbued and transfused through the subsequent discharge
a crystalline pattern, like glaze on a bowl,
capillaries
of crackle and craze
convergent where magma ballooned—
the magma becoming
mama,
who feeds infant Finn
fluffy, light griddlecakes, fresh,
right out of the pan,
adult
and unwitting,
infantile cosplayer Finn,
dressed in a onesie and swaddled in blankets—
no chipped teeth for Finn,
his wife Oona
leading the men who show up, in groups
or in tandem,
all the way out to the end
of her husband's unfinished project,
which became her project,
the Giant's Causeway.
No more nagging for Finn!


All writing remains the property of the author. Don't use it for any purpose without their permission.
likes

4

reading list entries

3
Commenting Preference:
The author encourages honest critique.