deepundergroundpoetry.com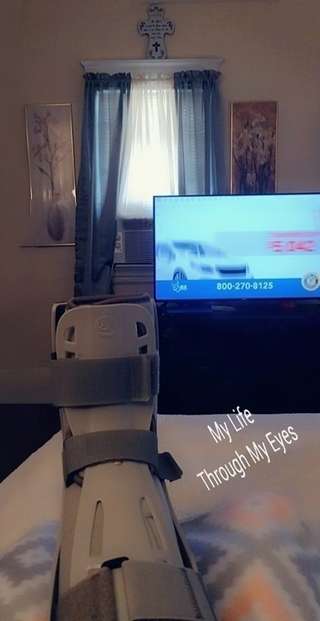 My Life Through My Eyes... (Proverbs)
I am stiff, sore, my ankle is a tad swollen, but not as painful as it was hours ago.

I surprised myself on 11-06-22 with sheer determination after fracturing my right ankle that resulted in a medical leave of absence for six weeks from my Nursing Administrative duties, and my second place of employment as a Behavorial Health Counselor, the setback to run in Ohio, a marathon, which I have not missed in years, and physical strain and pain when training for the New York marathon under limited mobility of a leg.
 
Then the physical therapy sessions three times a week, before and after work to learn to walk properly once again.
 
In the process, I had to postpone running until I received medical clearance from my Orthopedic.
 
The day of the New York Marathon 11-06-22, I had to make a split decision with my running group to run the entire marathon 26 miles.
 
In my mind, I wanna to say, 'just screw it', and go back home, not to forget all the training and I did, at that point in time, I did not want to let my running group down, who have stood by me and was rooting for me to cross that finish line, rain or shine.  
 
In addition, I suppose it was that Aquarian stubborn pride and tenacity that propelled be to keep a brave face, knowing I only trained comfortably to run thirteen miles and could only push my ankle no more than eighteen miles, then I tap out, the throbbing and tightness set in, then to topple the equation, aunt flow made her visit, slightly cramping and bloaty.
 
I looked at all runner faces, and wondered what their story was, did they have butterflies in their stomach like me. I did not want to embarrass myself by stopping in the middle of a marathon, which I was going to, in the beginning, until the rules changed, and I was not prepared, my self-confidence was on the line.
 
I had to either run the full marathon or forfeit, since the official half marathon is usually in March, which we knew that, but I wanted to pace and run and then fade to the sidelines, but my finished time would not be officially counted, which was fine by me.

I ran slower in the beginning testing my durability I did wear my ankle brace for support, as a friend advised me to do...  
 
Oh, my goodness, I made it to the twenty miles, grimacing, because I knew the remaining six miles was not in my reach. I walked a mile with my running coach, as he suggested, and I knew he was being a great sport about his own declining pace and finishing time, then I did a giddy up run (run and walk, run, and walk) and then ran in so much pain to make myself look good once I cross the finish line.
 
I end up running a full marathon in four hours and fifty-two minutes, two hours slower than my qualifying time.

I cried as I was walking to bring my heart rate back down, because sometimes when you are set to do something than what was planned, and you surpass your expectation it is the sweetest and most memorable rewards.
 
I was going to stop altogether, and just chalk up this marathon as I tried, until I saw Chelsea Clinton, Ashton Kutcher, and a female anchor from the morning news … running past me... and I got a new feeling, of competing to the end.
 
I am off today, thank goodness... but I did complete all twenty-six and three miles (26.3) it seems so surreal because I really was prepared to run for thirteen miles and it's ironic in the end I completed a full marathon, with a slow time of course, but I did it... wow...  
 
Next year, if it is the Creator's will, I will be at the starting line ready to compete in the New York Marathon at full capacity.
All writing remains the property of the author. Don't use it for any purpose without their permission.
likes

6

reading list entries

0
Commenting Preference:
The author is looking for friendly feedback.