Content Warning : Do you want to continue?
This poem contains content which some readers may find disturbing.
It is unsuitable for children or anyone who is easily offended.
YES
I am over 18 years old, I have been warned and I still want to read this poem.
NO
I don't want to read this type of content, take me back to the previous page.
deepundergroundpoetry.com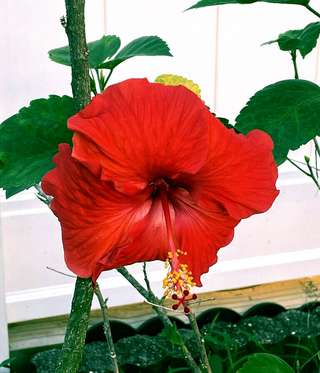 Red Flannel Symphony


I went to bed with lust last night.
I've woken, to being in love
with the contoured aura
under silk, of her body.
 
The curtain is parted,
as the sun fingers through.
No protests, from the window,
as the light slides across the floor
and slinks up the side of the bed.
I watch, and smile,
as the sunlight rubs
where I've already been.
 
She stirs, and if she smiles
at the sight of me,
I will bring her coffee.
If she frowns, or groans,
she can get her own.
 
Her hand finds me first;
Yes, this happened.
Her eyes can wait, to adjust,
as I contemplate
her joy, or regret.
 
A wry smile;
A stretch.
A serpent sated
by a large meal.
 
I get;
She takes her coffee
with sugar and milk.
 
I watch the yellow bird tattoo
softly peck at her right breast.
I'm sure that it symbolizes something.
But I don't know her
well enough to ask.
Maybe I will, in the bath.
 
Soon enough, we're soaking;
Her elbows on my knees,
as we shelter in steam.
As the water rises,
to lap at the last places
that we introduced to each other.
 
I string her hair through my fingers;
Dark, like the vines of midnight.
She leans back against my chest
and sips her less black coffee.
 
She squeezes my knee, and
relaxes even more than she did
with the whiskey last night.
When it had told her
everything that she had wanted to hear,
as it soothed its way
down into her throat.
 
It's an elixir, for the ailments
that plague our kind.
An opened bottle, helping us
with an opening line.
-How the ice rattled like dice.
Where every serpent
hopes for snake eyes
from another,
with similar venom.
 
Dried off,
she's chilly, so
she pulls my red flannel shirt
from all the rest.
Those left, are hanging in rejection.
Suspended, in dejection.
 
We take our coffee out back, where
the clouds have overtaken the sun.
It's a jealous sun today.
It can't touch like I can.
It can't go, where I do.
 
As I kiss the corner of her smile.
As I absorb
the luxury of her skin.
 
 
~~~
All writing remains the property of the author. Don't use it for any purpose without their permission.
likes

12

reading list entries

8
Commenting Preference:
The author is looking for friendly feedback.