deepundergroundpoetry.com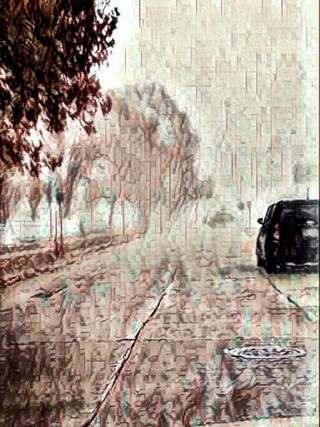 He Wasn't Wearing Keds
She stood in her driveway power smoking
a cigarette, Watching as night met the day.

She doesn't sleep much.

Lays awake thinking.

Thinking. Thinking.

No dreams. No nightmares.

She tossed her cigarette into an old coffee
can and called the stray cats she's been
feeding.
Ladybird! Mike Morris! Bowbandie!

All 3 came running as she popped open two cans of tuna, of course, she got tuna juice all
over her pants and hands but the kitties
didn't mind as much as she did.

She walked over to the dewy grass and
wiped her hands in it.

That's when something behind her garage
caught her eye. She finished cleaning her
hands took maybe 3 steps and then she
stopped.

Is that a dude? What in the fuck. She got
closer, it is a dude! She loudly said, Hey!
No response. She took another step
another loud hey, and nothing.

One more step and she was close enough to
see his face. He was dead. It was obvious.
a bile like yellow foam type of crust covered
his mouth.

She backed up, but couldn't remove her
eyes. She didn't blink she just stared.

He was sitting up against her garage
wearing a dark blue, red striped coat,
his jeans were dirty and ripped in the knees,
his shoes looked brand new. No dirt.
very clean. Too clean.
his face, contorted, mouth hanging open
and his eyes, wide open and in a frozen
stare, looking with nothing. He was empty.
She was looking at a shell.

She stared at his shoes. She couldn't move.

Her mind was glitching.
7 cents, Vern. 7 cents.
You guys wanna see a dead body?
7 cents 7 cents 7 cents 7 cents.

She broke from her trance and ran,
she slipped on the dewy grass but caught
herself and kept going. She couldn't get
her door open fast enough, and she
slammed it shut.

She felt like she was hyperventilating.

Her phone felt like bread, squishy and she
tried to unlock it but the numbers were
looking like letters and she had to stop
and breathe, then finally,

"9-1-1, what's your emergency?"
Her mouth wasn't making words she tried
but she was immobilized by fear.
"911 what's your emergency?"
I, I, there's a dead guy in my backyard.
Then the operator wanted to know how
she knew he was dead. Silence once again,
the operator said hello, and she said please
send the police and hung up.

7 cents Vern. 7 cents. Her mind was mush.

She went outside and sat on her porch
smoking again. The three cats also joined
her. She waited for sirens.

She was on her third cigarette.  
The cats were unaffected.

"There's a dead man in my backyard"
she said in a small whisper and repeated
It again and again.

The sirens had arrived.
An Ambulance, Fire truck and the Fuzz.

She told them where to go. She did not
follow.  She gave a statement and lit up
another cigarette.

Then a black van came.

A medical examiner rushed by her.

Time had slowed.

She heard squeaky gurney wheels rolling
towards her down the rocky driveway.

She lifted her eyes to see the bag that
carried the man who died in her backyard.

They stopped to tighten the straps,
put him in the truck and shut the doors.
They drove off. The medical examiner left.
The cops and fire men were talking near
the cars.

She smoked another. She couldn't believe
what had happened.  A dead guy.
someone's someone. A tear fell.

She heard the cops talking and one of them
said, "didn't that lady smell like tuna?"
the other said "yeah, gross."

She put her cigarette out in the old coffee
can and went inside to change and wash
her hands.

Fucking tuna. How embarrassing.










All writing remains the property of the author. Don't use it for any purpose without their permission.
likes

16

reading list entries

7
Commenting Preference:
The author encourages honest critique.