deepundergroundpoetry.com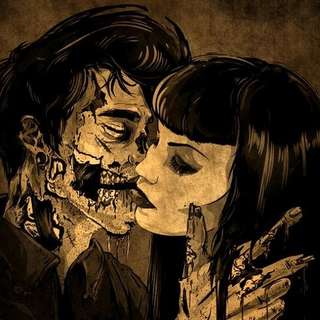 Hungry Hearts
I would give anything to live
yet you wish to die
Standing there all alone, in tears
Well, I never give up a free meal
This hunger for human brains
wish I could quit them
but an animal's isn't the same
Guess it's your lucky day
As I step closer
the more beautiful you become
It almost pains me to see
such a pretty thing suffering
Didn't think I had these emotions left
Only thing I ever feel
is the pain of my rotten flesh
keeping me in unrest
Instead of ripping out your guts
I comfort you with a pat;
To my surprise
youíre not even scared

I have been long dead
from inside...
Like a lone star
frozen in timelessness
That loneliness...eating me up like termites
Irony isn't it... I feel all alone
though the universe is bedazzled
with many sparkling stones
Unloved and uncared
true love is that I have always longed for
I would give up my life
for a few kind words and a loving touch
Your body may be cold
but there is warmth I feel in your soul
I offer you my blood and flesh
for love...
Love me ...oh just love me
until I'm no more...

I wonder what I was like
in my past life
Maybe a pop icon
or some beloved politician, ha!
Letís face it
I was just some nobody
though I have no recollection
All I know for sure
is my heart hasnít beaten since,
yet today I swear I felt a thump
Now I have this warmth;
Urges that make me want to go out
sing a song, or give flowers
You hold my hand
it doesn't matter that it's blistered
You see me for who I am
or at least who I was
Maybe I was a prince
turned zombie
With one kiss, princess
make me human again

A deluge of emotions I feel
gushing through my body,
welling up in my eyes
as you take me in your embrace
I will break all taboos ,my darling
to undo the voodoo
changing you into human
from the living dead
This I say with no regret
you are warmer than the
cold indifferences of people I have met
Hold me, please hold me tighter
let the warmth of your love penetrate
and make me feel alive again
As I put my lips on yours
gazing into your eyes
there is something that tells me
you will always be mine

Your kiss is sweet
too sweet
I bite open your bottom lip
The flavor of human flesh
enrages my hunger
As much as I crave love
I desire fed more
You try running,
hysteria has you tripping and falling
Oh how I wish you were faster
The next bite sinks above your left breast
Blood comes pouring out,
but the taste is just too delicious
I canít help myself
Iím sorry darling
as much as this hurts you
itís killing me
For us zombies
Weíre just not meant for love

Bit by bit
piece by piece
she became a part of him
in body
...but not soul
The earth cries an eerie silence
lamenting at the strewn bones
A ghostly weeping haunts the scene
while the wind searches for the love
she never received
There goes the walking dead
licking blood off his hands
A slave to his primal urges,
what could one expect
After all he is a Man
whether living or dead...
All writing remains the property of the author. Don't use it for any purpose without their permission.
likes

7

reading list entries

2
Commenting Preference:
The author is looking for friendly feedback.