deepundergroundpoetry.com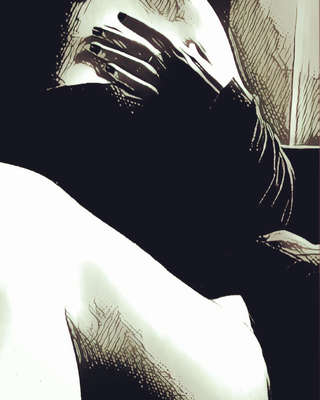 Charcoal
I see you smoldering.
We recline on the floor of your studio…wine glasses in our charcoal smeared hands…. languid…sharing a smoke. Discussing art.

Then… art of a different kind…and with a different language. Wordless. But not silent…

Charcoal dust, roving hands smearing a trail of gray/black leading to the secret places. Moist lips uniting hungrily in the the most intimate of connections…a bridge of vital essence.

Fingers and lips on their own journeys, free from the perfunctory, free from muscle memory of everyday tasks. Every nerve alive with the newness of possibility.

My highest peaks conquered and my softest valleys claimed….while I wrap you in myself and devour your desire. I slide and dance, push and contract, claw and moan, we arch and gasp, tensing in a steep climb to that sacred place…One of the delectable pinnacles of the human experience, a momentary nirvana, a precious gift within the cosmic blink of our existence.

And we collapse together, breathless…spent. Wine spilled, charcoal broken. Smoke swirling weakly from an abandoned cigarette.
All writing remains the property of the author. Don't use it for any purpose without their permission.
likes

8

reading list entries

3
Commenting Preference:
The author encourages honest critique.