Content Warning : Do you want to continue?
This poem contains content which some readers may find disturbing.
It is unsuitable for children or anyone who is easily offended.
YES
I am over 18 years old, I have been warned and I still want to read this poem.
NO
I don't want to read this type of content, take me back to the previous page.
deepundergroundpoetry.com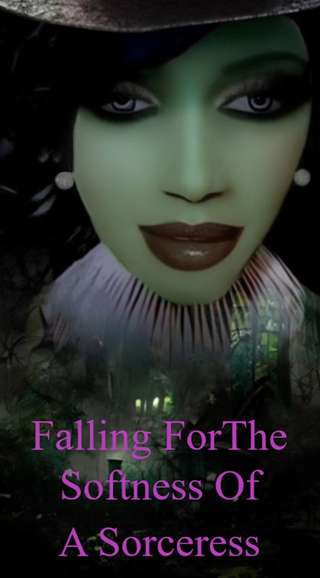 Falling For The Softness Of A Sorceress
I do not see that castle up on the hill
If I had, as my first Wizard in command, I might have to break rank and denote you just to get some more of those wanton bodily thrills
I never know scratches felt invigorating to my skin
Until I held her legs up and kept driving my dick in her warm pussy, over and over, again and again
What a night fellow I had
Sound to me like someone got taken bad, you sure she didn't drug you and then disappear,
You sure you were even out here Captain, no castle, and now you are starting to sound weird

If we are waiting our time out here, you buy the first round out beers
Fair enough, maybe we should divide up
It strange to me, I do not see any reminders in this dense fog where I rested my head last night, we shared some hungering passion where she let taste her scent then thrust in every opening of her lover's cups
Damn, man, was she that good to you
No doubt, put it like this, I savored in those sugar wall like she was food
I still have the taste of her under my nostrils the flavor of her in my mouth
If I inhale the air, I can still smell the sweet scent of her wet South
That is why I know she is near
You said there will be castle in the dense forest, and we are knee deep in the dark about to cross a moat
That… witch… I mean.. sorceress is worth the parlay to make any man's boat float

Man, I do hope we are not out here on some I need another feel
Don't wait my time when I could be with one of those women in the village, to fit that bill
Shh... and fall in line, I was lured by the moon, and the air is changing, it reeks of something sweet can ya'll tell
Sniff the hair and advise me what each one of you smell
My nose only smell toe this my dick going on a hoe.
Oh well
How about you Sorcerer... I can sniff out a sorceress, its early and if she places the elements under her spell then that concept you want me to believe would be heard to sell

If anyone finds out anything do not approach, do not let those eyes fool you they will tempt, trap you and.. and
Seduce you Captain Warlock, with all due it appears according to you she took you to Disneyland
We meet back here in an hour tops
After we cross the moat, and if we do not find this sorceress, we are searching for then we stop
Yes... see you two back here on an hour or so
And remember this witc.. sorceress is passionate and sultry with that tongue
So, Caption Warlock, what do you propose we do, drop our pants, or run
Whatever you do get it done before the rise of the sun

I could be at home in a woman arm, in a dark forest, my feet hurt
No pussy to dink and a ghost woman Captain Warlock think has some worth
He probably is going crazy
Is that light I see up far up road
I could use something to drink, from listening to all those fabrications my captain has probably told

Who could be at my door and this late
I thought I zapped my castle not to be found at any rate
Inhaling, exhaling, slowly opening my door    
Mm... what do we have here.? A future honey skin dripping pour    

Damn! I mean, excuse me ma'am
No worries, I understand    

Is this the right address...
His eyes leering at my mound of my over spilling breasts
I..I...    
He will look over my shoulder then his eyes will peruse my breasts spilling over my camisole and that's no lie    
Then in confusion and a state of surprise massage the back his neck    
Licking my lips circling a manicured nail around the rim of my wine glass... to have his full undivided attention is making me wet    
I thought a witch... I mean I heard a... a sorceress I think I may have the wrong residence at best
You are already in my web mm... I am just thinking of the most      
delicious way to spin you      

Would you like something drink.... trailing my fingering down my chest... eat
Hell yeah... pardon me... his eyes raking me over... something moist in the center and sweet
I would love to feed off your flesh as my carnal dew      
Then coiling your heart like yesterday's food
I was silently reading his mind at the time      
Oh, my darling that's so cruel      
Mm... once you crossed my threshold, my rules      

Disrobe my love and partake of such warm and sugary treat      
Surely you shall serenade to appease upon the sweeten taste of this      
love potion feast      
You are now under my spell      
Anything I want you will do to the sound of the bell      
Stroke yourself
Mm... you are getting me so wet      

Yes... yes..… pump your elongation...
Losing my eyes in the stretch of the imagination  
Cupping the back of my head without hesitation, I do admire his sense of persuasion
My mouth welcoming the invasion
Over these pretty lips before the sinking in his mouth    
Milking this head for those drips once I hit that South      
Down my throat gagging on the width no lie      
Holding my neck up ... yeah… swallow down these inches so I can      
stick it next in that creamy peach pie      
Oh yes baby…. pump that dick      
Palm my ass cheeks and let that mouth rip      

He pushed me back on the bed
Let me see you pleasure yours led before I stick in my head  
Oh, yes just like that      
Don't move those eyes as you watch me part my Creole thighs and play      
with my soft kitty cat      
Lean your face down here my love and hold out your tongue      
Sniff my fingers now ask me for some      
"Can I have some?"      
My essence coating your lips... leaning in giving him a kiss pushing      
your head down to my clit "now lick"    

Standing, palming my hips, posting me for his taking
That slow love making
His body chemistry was more pleasant than what my nostrils whiffed from the forest as it drift  
Panting… breathless, as his finger slipped and dipped in my milky sensation for his arousal uplift      
Stroking his extended girth      
Dividing my butt cheeks, up and down my pinkish ingress the tip for the pleasure of its enticing worth      
To taste of me he smears to his lips      
Placing me over his shoulder across the room in a rush he drifts      
Mm… to the sex swing I now sit      

Waiting for him to appease      
Eyes close sinking into the feeling of oblivion as his touches takes ahold of me      
His fingers tracing up my skin      
A faint nick of his nail dents in      
Licking my blood so gallant of him      
Pushing his arousal deeper inside      
My blood rushing to his tongue heightening in its nature when passion and pain collide      
     
A night of undulated passion, on his knees, then in my bed, legs braced against his chest      
Licking over my toes, his fingers dancing inside my creamy wet      
Oh, sweet mercy loving the dual desire of this      
Easing his throbbing erection into the narrowness of my moistened abyss  
We both simultaneously released our need, in the heightened intoxication of our body's greed
Blending our juices, serenading kisses, he kept double humping and pushing in deeper his pulsating dick
What the fuck is that we listened for the sounds carried by the wind
We both stopped after hearing someone call out for him
I suppose that is your search party
Let them
Can I come back later, I am still famished
For a Creole dish, with my hot mouth kissing all over her big tits





All writing remains the property of the author. Don't use it for any purpose without their permission.
likes

2

reading list entries

0
Commenting Preference:
The author is looking for friendly feedback.