Content Warning : Do you want to continue?
This poem contains content which some readers may find disturbing.
It is unsuitable for children or anyone who is easily offended.
YES
I am over 18 years old, I have been warned and I still want to read this poem.
NO
I don't want to read this type of content, take me back to the previous page.
deepundergroundpoetry.com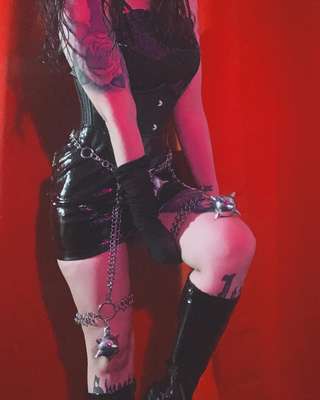 Muerte Erótica
I ask you politely to disrespect me
Your hesitancy reveals itself as your lips tremble and your hands shake
I turn to you and ask
"How does it feel to be inside parts of me no one has reached before?"
As you rip my soft hymen
Your bloodlust for me thickens
The sound of the wet leather ripping my feeble skin is my preferred hymn
I allow you to release the darkest parts of your mind onto me
Red candles lit,
As the hot wax drips down my breast
Press the flame against my backside as you bite my neck
Flail smashing my jugular as you rail me
Cold silver blade sliding down my thighs ripping my delicate feminine skin so gently
Imprinting future scars on them as the blood drips
 As my bloodlust heightens
I paint your face with my blood with one hand, while you suck the blood off my fingers from the other,
With my heart on fire, burning for more
Deep penetration and asphyxiation, is the perfect combination
Then, a loaded gun pressed against my tongue
Though I deeply desire for more
But you won't pull the trigger
Silver bullets, they tease me
An erotic death, I lust for
(Muerte Erótica)
My sacrum wound holds no room for asceticism
Erotic lust…
I must indulge in masochism and nihilism
 Gentle words, we exchange as we both accelerate at the same time
A release deep inside my warm depth
Those peak emotions right before we erode linger
Bruised and bloody you remove my soaked garments so carefully
As you kiss me passionately
All writing remains the property of the author. Don't use it for any purpose without their permission.
likes

2

reading list entries

2
Commenting Preference:
The author is looking for friendly feedback.