Content Warning : Do you want to continue?
This poem contains content which some readers may find disturbing.
It is unsuitable for children or anyone who is easily offended.
YES
I am over 18 years old, I have been warned and I still want to read this poem.
NO
I don't want to read this type of content, take me back to the previous page.
deepundergroundpoetry.com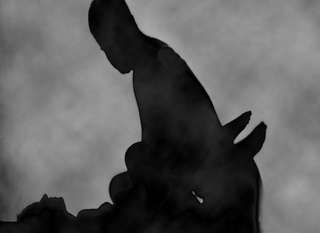 I Carry Their Shadows
Jennifer loved her shadow, laughing as it followed her while running. I stepped in front of the sunlight and covered her shadow with the larger form and she laughed. "Daddy, can you be my shadow forever?" she asked.
 
"Yes," I said. "I'll follow you always."    
  
Fate decided that was a promise I could not keep. Her death, a random act of bacteria and math, wasn't something I could accept. I was the source of so many hurts to our broken family, yet I must live on. She was the source of joy but left me.    
  
Last night's lover was trying to comfort me by saying, "Maybe the world wasn't worthy of her beauty."    
  
"Fuck you," I said, not out of anger, but with soft tone, as I might say thank you to a server. "How can such beauty come to an end?"  
  
My lover, the latest in a string of relationships, cried softly. We made love, but I felt Jennifer's eyes watching me from the shadows of my lady friend's closet.    
  
I pictured my daughter's body from earlier that day on display for all to see. Her eyes were closed and her lips were pursed together in a slight smile. How can a young body once so filled with passion lie silent?  How can one so complex in her details, who so often writhed with ecstatic animation and desire, now lie cold?    
  
"Daddy, when did you and mother first have sex?" She asked this question when she was six. I hadn't thought to expect it.    
  
"Ask your mom."  
  
"Why, can't you remember?"  
  
Yes, I remember it well."    
  
"So, then, when was it?"  
  
And so it went with Jennifer, our one and only, precocious child.
 
Fact was I remembered all too well. Any man worth a damn remembers his first time with a woman he truly loved. We'd come close several times but held off. Finally, I felt her surrender in as her thighs spread around my core and she drew me in. We both sighed in unison when I found my way past her wet lips and fell deep into her heat.  
 
We both went limp and seemed to want to rest there forever, but it was only a pause. Slowly she began to move forward and back and I found her rhythm to return her gentle sways. We continued this way for several minutes as if afraid to change our pace. Truth was, it was pleasing to us both. The slowness of it gave the mind time to picture what was happening down below and it felt beautiful, like nothing I'd ever experienced.  
  
Those who knew my daughter understood her hunger for life. She left nothing undone in her short years. This I knew because she told me, and what she didn't tell me, she told her mother before her mother's death.  
 
I sensed my lover's stare and realized I'd fallen into the same slow, meditative rhythm I'd experienced with Jennifer's mother years before. Tonight's lover was puzzled because she was used to aggressive fucking.  
  
As I rose over her body, still pressing to the slow rhythm, I saw that the wall next to my lover's bed carried my shadow from a streetlight through an open window. I imagined Jennifer's shadow hiding inside of mine as it had when she was a child. As I pressed into my lover's warmth remembering Jennifer's mother, I imagined both of them alive within me and wondered if spirits felt pleasure in the afterlife.  
 
My lover was puzzled by my staring at the wall and she began staring there too as we fucked, me suspended over her with tears in my eyes.    
  
At the moment of my coming, my lover purred with pleasure as she had done before and pulled me closer. She was beautiful, but I barely knew her. Still, I pressed in with the passion I imagined Jennifer had drawn from men. For those few moments my sorrow lessened.
All writing remains the property of the author. Don't use it for any purpose without their permission.
likes

0

reading list entries

0
Commenting Preference:
The author encourages honest critique.