Content Warning : Do you want to continue?
This poem contains content which some readers may find disturbing.
It is unsuitable for children or anyone who is easily offended.
YES
I am over 18 years old, I have been warned and I still want to read this poem.
NO
I don't want to read this type of content, take me back to the previous page.
deepundergroundpoetry.com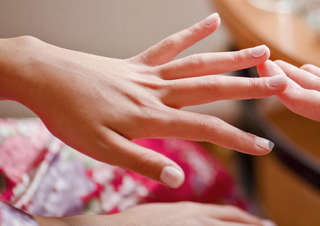 Eric's Journals of Self-Discovery Chapter 2 Sally and My "Thingy"
As I drove across town and away from Janice's house to Leslie's apartment, I thought back to when I was a kid.

The preacher's son at our church was Alex. We were both ten and became friends. He liked to show me parts of the church I didn't know. Things like old closets where robes and hymnals of the past that had funny shaped notes were stored.

Alex seemed to know more than I did about a lot of things. Once we were sitting in his dad's office. He said, "Have you ever played with your thingy?"

He was so matter of fact about it that I just said, "No."

"Well, when your thingy gets hard, does it ever get hard?"

"Yes," I said.

"Well wrap your fingers around it and do like this." He started moving his hand forward and back close to his crotch. "And," he said, "I like to call it a dick so when I say dick, you'll know what I'm talking about."

Looking back it didn't seem weird at all. It was like he was helping a friend know something new.

A few days later in my bedroom, my thingy…or dick got hard. I don't remember thinking about anything in particular but I was curious about what Alex told me and that might have made it hard.

I was a little scared but did what he said and it felt good. It got harder too. After just a few minutes something amazing happened. I felt a tingle and it started pulsing on its own. I just stopped and stared as several little jets of white cream shot in the air and fell into my bedroom carpet.

For another minute I stared at my dick and watched it gradually get soft again.

That was all there was to it. I got a paper towel and wiped the carpet so my mother wouldn't see it.

It was all so "matter of fact" just like Alex had told me.

Sally lived next door. She was twelve. I thought she was pretty. My dick got hard sometimes when we were playing football in my yard. My daddy would throw us passes and we tried to run around him before he touched us. Sally liked to come visit because my dad was nice and my mother made the best cookies of any of the moms in our neighborhood.

One time after cookies with Sally, I realized my dick was hard. I asked Sally if she wanted to see something in my room and she said yes. She probably expected to see another new model airplane my dad and I had made but this time I didn't have a new plane.

I was a little nervous but since Alex had been so "matter of fact," I just said, "When I'm around you something happens that I wanted you to see."

"What is it?" Sally asked.

I pointed at the bulge in my blue jeans where my dick was hard.

"Oh," she said with a quick laugh. "That happens to my daddy sometimes. And sometimes he rubs it a little when he's watching television. He doesn't think I notice."

"Well," I said, "Do you want to rub mine?"

"OK," she said without much expression at all. Looking back, it was like I'd asked her if she wanted a glass of milk and she said OK.

I pulled down my pants and she looked at my hard dick. It was sticking out sort of straight in front of me, swaying left then right.

"It's bigger than I thought it would be," she said. I laughed wondering what she expected.

Then she did the most amazing thing. She reached out with her hand and curled her fingers around it. I remember thinking her fingers were beautiful. She painted her nails light pink but some of the polish was chipped from playing football in the yard.

She started rubbing me up and back, up and back, as we both looked down at it.

As it got harder, I got more excited. It felt a lot different than my first time doing it by myself.

After a few minutes the pulsing started like before and I watched Sally's face as it happened. Her eyes were wide and she seemed entranced and couldn't look away. She kept rubbing as the cream shot little arches in the air then fell to the carpet. Some of it ran over her fingers but she didn't seem to mind.

She heard me let out a little moan and looked up at me. I'm not sure what my expression was but she smiled when she saw my face.

Then she looked back down at my dick. "Wow. I didn't expect that," she said. She kept her fingers around me for a minute and felt me getting softer, then she found a tissue and we wiped her fingers and the carpet. She seemed very matter of fact about the whole thing like this was just something else to be done in life.

I was almost to Leslie's house now but Sally continued in my thoughts. Sally and I got to know each other better over the next several months until her family moved. I was sad and still feel sad that I don't know where Sally is today. She would be twenty-four, two years older than me. I wonder if she ever thinks about me.
All writing remains the property of the author. Don't use it for any purpose without their permission.
likes

0

reading list entries

0
Commenting Preference:
The author encourages honest critique.