Content Warning : Do you want to continue?
This poem contains content which some readers may find disturbing.
It is unsuitable for children or anyone who is easily offended.
YES
I am over 18 years old, I have been warned and I still want to read this poem.
NO
I don't want to read this type of content, take me back to the previous page.
deepundergroundpoetry.com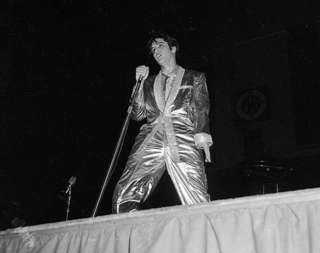 Such A Night
Empire Stadium
Vancouver, BC, Canada
August 31, 1957

During our second set,
and only four songs in
the Colonel gives us the order
to bring the show to an end

Maybe closing with "Jailhouse Rock"
didn't settle the crowd
growing out of control
- unpredictable and loud

Getting safely out
poses a bit of a problem
I don't want to miss my meet
with the fan club President
or it might leave me quite solemn

It seems only fair
that I show my appreciation
that they bring us great fans
all across this wide nation

We have to think fast
so we develop a ruse,
we slip my known gold jacket
on someone from the crew

I stay back at the stadium
while they think I have left
and we clear out a room
so I can honour my debt

And man, I must say
she is certainly a sight
with dark, swirling curls;
a total buxom delight

Of course,
I have left them wanting much more
and she voices her displeasure
that she only heard four

"I'd better make it up",
I cleverly quip
And I can see
her quite anxiously
working on that lower lip

I move in a bit closer
And she quickly pulls me in
tight to her goodies
with a mischievous grin

She is one of the first,
to have nothing under skirt,
She's got that hunk just a growing
and this libido straight to work

I take those nice curves
Into my tender hands
and desire hits the pitch
to navigate promised land

I catch her enjoyment
In breath and her eyes
and the dampest enticement
between the smoothest of thighs

I drop to my knees
there should be no time to waste,
my devoted disciple
gives this pout a sweet taste

I lap and lick at my gift
so welcoming primed,
treating my tongue
In and outside of the lines

She yanks at my pants
of iconic gold,
and her firm hungry grip
puts me into the chokehold

Turning the tables - oh lord -
the feel of her mouth,
takes me to such places
I've never felt back down south

Between decadent slurps
I hear a "hail to the king"
Man, this burn of such loving
is such a sensual thing

I often fondly remember
how she's opened that door
I've found a new way of signing
And I am hoping for much more.

#ElvisPresleyRomaticWeek🎁

https://www.youtube.com/watch?v=7kgm-vppxOY
All writing remains the property of the author. Don't use it for any purpose without their permission.
likes

1

reading list entries

1
Commenting Preference:
The author is looking for friendly feedback.