Content Warning : Do you want to continue?
This poem contains content which some readers may find disturbing.
It is unsuitable for children or anyone who is easily offended.
YES
I am over 18 years old, I have been warned and I still want to read this poem.
NO
I don't want to read this type of content, take me back to the previous page.
deepundergroundpoetry.com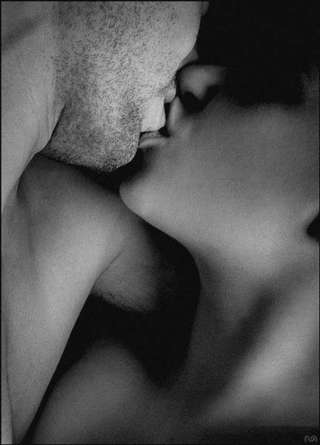 Mm... Oh Baby, Yes... I Feel You All Up In My Creamy World
Mmmm.. Stepping Into His Reality
My love are you thinking about me  
Knowing how well we collide in the hunger of the need      
Parting my thighs, a lick up my soft folds      
My body trembling, I wish you can see how far my two fingers can go      
The power in my taste, the sniff, pumping your girth making me addicted to you once your natural rise      
Oh baby… I need you tonight to cum inside        
My soft whispers tossed in ether carried away by jasmine scented wind      
Close your eyes my love, as I close mine, smothering one breast, licking my lips, let's tenderly atrial blend      
     
Tonight, let me be the chalice to your soul      
Sips of my passion as your tongue rolls      
Mm…breath me in as I feel your animalistic yearns      
Consume the lust of my desires as we appease in the slow burn      
Touch me… in those imagined slicken places        
Feel the rhythm of my gyrate as you ease in and out, circling your girth in my tight spaces      

Lips to the back of my neck, breasts cupped, gently squeezed      
Whispering in ear, "let me be the man tonight to please"      
Turning me around      
Camisole unsnapped falling to the carpet, my heartbeats heard are the only sounds      
Eye to eye, outlining my eyebrows, my lips      
The other hand reaching down teasing my clit      
     
Oh, sweet mercy... give me your manly heat        
Serenade my soul like there's no one around to hear us as you kiss each toe upon my feet        
Make sweet love to the gateway of my mind      
Intoxicate me as I fall for your smooth lines      
Beautiful words you scale upon my Creole fragranced skin      
Echoing the loss within the need, pools of ecstasy drowning you in rapture once you ease in      
     
Oh yes, I feel the silhouette of your palms blanket... parting my snatch for a pinkish view      
Wetting your fingers… ooo… in and out, smelling, then tasting that coated dew      
Oh, this thinking had made me hot, do not mind me if I scoot my chair back, legs gapped on my desk      
Can you see me... yes… I know my downy hair strands are super wet      
Fine tune in your computer screen let me strip for you like we just met      
Yes, right there… close your eyes and feel me, lean in closer      
Head bend back… watch me as this pussy become a super soaker      

Oh Go baby.. wait… wait… mm… here it cums      
Fingers jiggling, wiggling, slit juices massaged into my tit      
Oh, God yes… body trembling... I love your expressive eyes loving from what I just done      
Mm… oh yes… that is why I call it my trickling butter rum      
Tell me now handsome.... do you want some…
Carnal pleasure of your wide, the hard gift dipping inside me until the rise of the sun

All writing remains the property of the author. Don't use it for any purpose without their permission.
likes

5

reading list entries

2
Commenting Preference:
The author is looking for friendly feedback.