deepundergroundpoetry.com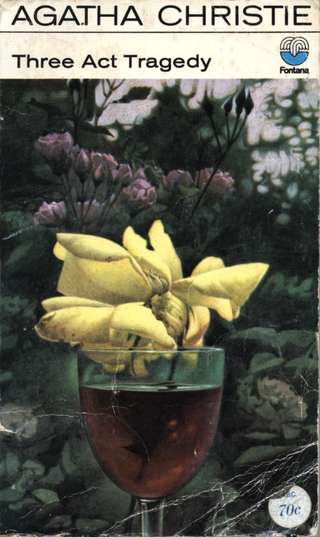 Murder, Motive, and Memory: A Little Essay on Agatha Christie
The best encapsulation of detective novelist and "Queen of Crime" Agatha Christie's appeal came, I think, from the poet Stevie Smith, in a review she wrote of Christie's late novel, 1967's Endless Night: "I mostly read Agatha Christie this year (and every year). I wish I could write more about what she does for one in the way of lifting the weight, and so on."

I myself read Agatha Christie as a child and am still very fond of her. I like reading her work in paperback form, as published by Fontana with those beautiful and eccentric covers. I return to Christie whenever I need something light and relaxing, but still thrilling, to read. Hercule Poirot's Christmas was the first book of hers that I read, and I still remember lying on my bed at 11 or 12 years of age, racing towards the denouncement with almost giggly excitement.

I had a difficult childhood, and her books made it a lot brighter than it naturally was, so just for that I'm eternally grateful to her. I generally read Gothic fiction now, but Christie was in her way my introduction to the world of the Gothic genre, with her classical tales-of-detection's stringent focus on murder, motive, and memory. As a plotter and structuralist of popular writing, she's pretty much unparalleled.

My favourite book of hers is probably 1939's And Then There Were None..., which isn't really a detective story at all. Or, as the blurb on my extremely un-PC Fontana copy (under the original title) has it, "a detective story... with no detective!" I think of it as a "slasher" novel, essentially, although Christie would probably be horrified by any association of her work with sleazy American horror films. But the same structure's there: a group of archetypal characters are lured to an isolated location and picked off, one by one. In mystery fiction, this plot is known as the "closed circle".

I read None... while sitting cross-legged on my bedroom floor and was blown away by its logical, cynical succession of deaths, followed by a too-late-to-save-anyone revelation of whom the killer was, and why they did it. Given that Christie's books are often considered to be "cosy", the denouncement is an oddly dark and haunting one, provided as an epilogue to the story. It challenges and taunts the reader's ideas about conventional justice. She changed the ending to a "happy" one for the stage production, which is perhaps no wonder. Audiences of the time might not have stomached a play with such a shattering, transgressive epilogue.

None... also features a recurring theme in Christie's work which I find to be one of her most fascinating: the idea of "moral retardation", or people who kill because either they were never taught any better or were just born without a capacity for moral sense and understanding. Christie is often dismissed by literary critics as an unrealistic and unchallenging writer, but many of her stories do have things to say about good and evil, especially those written after the 1920s.

None... is a prime example of this. The killer staggers their killings based not on how deserving of death their victims are, but how deserving of the psychological torment of knowing that you're soon for the chopping block. One character is a religiously hypocritical old maid who cast out a servant girl after she became pregnant. (Working-class girls in domestic service being "taken advantage of" by men was a significant social problem back then.) And so, pregnant and with no means of support, the girl committed suicide by throwing herself in a river, meaning that the old maid has two deaths on her conscience: the mother's and the unborn child's.

Haughty and proud (an old bitch, if you like), she doesn't acknowledge her guilt. But clearly it lingers somewhere in the recesses of her memory, because one day at dinner she finds herself hypnotised by a drip, drip, drip behind her, almost as if a certain dead girl had walked back out of the river...

A lot of the murders in the book are like this, each character meeting their fate as a master manipulator engineers it. There's also a colonialist who left a tribe of natives to die in the African bush, a young woman who seized upon a chance to get rid of a child so as to seduce their guardian in his vulnerability, a negligent doctor, a hanging judge...

Christie was, in the end, a teller of tales, not so much a Dickensian artiste of fiction as a brilliant craftswoman. She kept writing long past the point at which she should have stopped. Her last handful novels are almost unreadably incoherent, one of them featuring the bastard son of Hitler (with a swastika branded on his ankle!) becoming a church organist in a leafy English village. (I swear I'm not making that up, it's in 1970's Passenger to Frankfurt.) Yet she remains a great source of pleasure and innocent enjoyment.
All writing remains the property of the author. Don't use it for any purpose without their permission.
likes

1

reading list entries

1
Commenting Preference:
The author encourages honest critique.