deepundergroundpoetry.com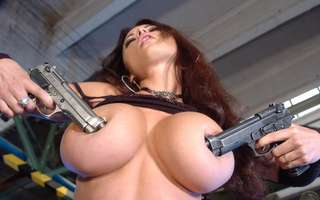 Shadow of the Bullet
 "Like my nose my heart was wide open
Violated to the core with her intoxicating lovin,
     "Faithful like a stupid motherfucka to the core
Did not realize I bonded myself with a whore,

     "When she cheated and got pregnant, there was nothing to say
Eggshell walking is now how she's living every day,
     "Respect earned is respect she has forever lost
Now all she can experience is the dark side of this boss,

     "At home when I walk down the hall
Like prison she better move aside against the nearest wall,
     "Bitch don't cook, don't clean, don't waste my fuckin time
Or 'baby can we talk', I'm not trying to hear the fuckin lying,

     "Never able to question where and when I go
Because to the door my footsteps will never slow,
     "I'll come in anytime I want smelling like a fresh fuck
Not caring about her side looks-I don't give a fuck,

     "If she catches an emergency the shit doesn't matter to me
I'm gonna continue scratching my nuts and watching TV,
     "Even if she walks around-ass hanging out by the pound
She's only one step away from my nine-millimeter round,

     "Is this being calm or deep-down hurt
Maybe for some relief I should give her no mercy anal work,
     "She willing to give me her sex any kind of way
Trying to make up for her fuck up-bitch don't pussy play,

     "Painful doggystyle would be just for fun
Because pointed at her head would be my loaded gun,
     "With a strong visual of her fucking another's dick
And the Devil whispering 'all it takes is one feel good click',

     "At that moment she thinks all is forgiven
But under the shadow of the bullet is how she's livin,
     "Some will say why don't I just kick her out
I haven't decided if I'm gonna blow her motherfuckin brains out".
All writing remains the property of the author. Don't use it for any purpose without their permission.
likes

3

reading list entries

1
Commenting Preference:
The author encourages honest critique.