Content Warning : Do you want to continue?
This poem contains content which some readers may find disturbing.
It is unsuitable for children or anyone who is easily offended.
YES
I am over 18 years old, I have been warned and I still want to read this poem.
NO
I don't want to read this type of content, take me back to the previous page.
deepundergroundpoetry.com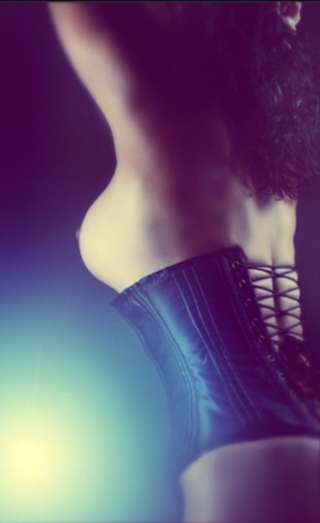 Mmm.. You Want To Put That Ice Cube Where
Unzipping his pants, shrugging them down to his feet
Desire to please me and be pleased, softly pushing me down in the seat
Oh baby... you really are going to eat my pussy in this chair
My red see through lingerie lifting over my head without any cares
Perky breasts meeting the cool Jasmine air
On my patio as the stars blink to see
I'm getting more wet knowing he's going to make love to me fierce and tenderly
I love surrendering this cunt to him for all eyes from a distance to drool
Wishing they were the ones licking this cunt as my essence down his beard making wet pools

Oh yes, ease that ice chip inside me, my sugar walls taking it in
Kissing him in between the licks while the taste of me streams down his chin
Getting down on his knees
Taking a swing of his Tennessee whiskey
Pinching my nipples, then a light lick of a peak for the his tease
Closing my eyes after feeling his quick spit
Parting the soft lips to my clit
Oh, sweet mercy, my back arched while his two fingers in and out drift
The taste of cherry flavor meeting on his digits
Leaning his head inward for the sniff, the savoring of my pussy flavor saturating his tongue tip

Kissing my inner thigh
His tongue and fingers venturing deeper inside
I need to feel the thrust of his hard lust
Then the release of his delayed nutt
Standing up, pulling back the taut skin of his dick
Wrapping my palm around the width, swiping the length over my lips
Smearing the cherry essence of my yoni on his head tip

A soft blow then taking the length to the back of my throat
His erection swimming as my mouth juices coat
Placing one of his legs on the chair
His wrist coiled by the strands of my hair
Mm… inching my head up and down
Oh God, I love a man when he's getting pleasured, his approval hissing sounds
My wet tongue dragging under and over his sagging balls
Tighten his wrist, his head thrown back while giving him my all

My jaws working with my hand pumps
His groin meeting my face with a mouth hump
Snatching his dick out
Kneeling in haste, legs spread, licking over my pinkish crave then with his two fingers, invading my south
I need to fill the hunger of his throbbing erection while it's deep inside of me
Palming my butt cheeks
His yearns feeding on the desires of my fetish needs

The twisting of his head, the gyrating of his face
My hand to his head, pushing it deeper in my crotch, making sure his tongue is bathing all up in my dewy space
Oh yes papi… eat this pussy like only you know
I need to feel my silken essence, crest, seep, as my pussy began to flow
Mm… yes… yes… let me breast fuck you after you lick it, right before you stick it
I've been horny for you all day, once out your clothes, I know lusting me does not take too long
Legs linking around the back of his neck, balancing on my palms, his hands, his tongue, his dick always bringing it on

His fingers inside me parlay, ice chips on a slow melt
What it is about him that keeps my appetite feening for him, this as if his passion I have never felt
Opening my legs for him, bending his knees, cupping his arousal, easing into my silken wet
Pulling my buttocks to the edge
My cunt was pulsating full fledge
The back of my legs bracing against his chest
Oh yes...yes…mm, his tongue getting all up in my honeycomb as only he does best
Knuckling the back of the chair with controlled force
Kissing his arms, my hands to his gluteus, pulling him in to me, his dick following the plummeting of my choice

No room to move his lust overtakes
Until the chair breaks
Mm… it did not stop his nasty progression
Lifting me up, placing me on the wrought iron table, my pussy is his dominating obsession
His tongue slowly making me wait to snake it inside
Umm…as the tip travels in, my pussy on his face as I hungrily glide
Hand on his head, the other gripping the back of the table, with him I am always ready and able
Oh…baby…yes… yes… fuck...on baby this butter rum is I'm about to cum
Placing my fingers on my pelvis, his tongue just rolled over them, then back in my snatch to console  

Burying his nose, the farther his mouth claimed my pussy hole
Fuck, he got me so wet and open wide
Baby keep making love to me, my juices and his beard collide
Mm... I love what lurks behind those briefs, it's a mouthful
Mainly when my head is bobbing and my hand jacking him off for the releasing pull
He knows I'm a sucker for his hypnotic eyes, pleading, with him to nutt inside
Umm…yes, gripping my hips
Pulling my pussy closer to his face.. mm.. his tongue is taunting my moisten slit
Lifting my breasts licking over the other nipple
For the love of God…baby, make me climax, it's that simple
Oh…yes…yes right there
He takes my mind here and there
Pelvis all up in his face
No room for him to breathe against my waxed mound, his tongue deeper and deeper invading my creamy taste

Thighs enclosing his face, darting in the tip of his tongue…oh, yes keep it right there, oh baby, I'm cumming
His tongue sopping my juices his tongue inside my abyss still softly drumming
Feeling the horny motion of his tongue's sinking worth ,what an oral gift
Woo…no…no more…baby, my pussy is sensitive and so is my clit

You have been giving me so much fever.. mmm… yes you have
All writing remains the property of the author. Don't use it for any purpose without their permission.
likes

5

reading list entries

2
Commenting Preference:
The author is looking for friendly feedback.