deepundergroundpoetry.com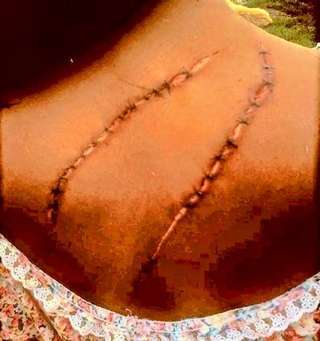 a dissertation of flesh

Footnotes from the heart|
With the picture above, please keep in mind    
that love is gently firm but  would never hurt    
or bring harm anyone, especially like this.|        
          
 
         
 °         
           
Written on laws in          
sanskrit epistles of            
lament;            
           
by a perceptionist,          
who created walls of            
mirror and dared to          
face a lacerated self    
   
           
           
She chanted:          
           
"pain i breath'd deeply            
as my body did levitate          
            
my face had emptied            
& for many years soul          
pour'd itself on            
floors          
           
smeared & smudged            
in fragile endurance,            
almost as if saged          
           
there's no greater            
transparency..            
than that which            
writhes, corset'd in            
kerosene promises            
& torn native            
desires…          
           
strangely enough,          
how I've always            
been able to speake            
in another's language            
but ..non could            
speak mine, in the            
end;            
           
but now, here you are..          
an immovable            
apparatus,          
why don't you escape            
while you can            
           
you're not going to            
accept, you cant            
possibly relish in love,            
your eyes will be            
unavailable to feast            
on what's beneath the            
robe"          
         
I grasped her trembling          
hands and whispered          
words of            
tranquility          
- if I'm here then it only            
means I'm right            
where I suppose be..          
           
           
           
           
           
           
           
           

All writing remains the property of the author. Don't use it for any purpose without their permission.
likes

7

reading list entries

6
Commenting Preference:
The author has chosen not to accept comments.