Content Warning : Do you want to continue?
This poem contains content which some readers may find disturbing.
It is unsuitable for children or anyone who is easily offended.
YES
I am over 18 years old, I have been warned and I still want to read this poem.
NO
I don't want to read this type of content, take me back to the previous page.
deepundergroundpoetry.com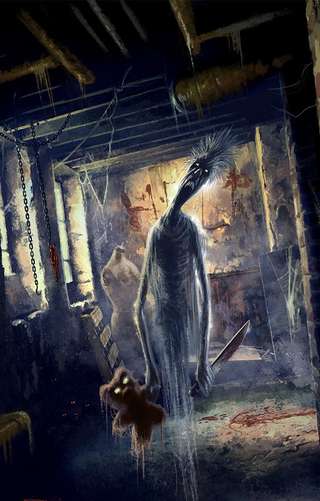 I Want My Teddy
 "I hear my sister's screams when I pushed her out the window
Landing head first into the windshield of daddy's Camaro,
     "Looking down all I saw was mutilated flesh and gushing blood
My actions weren't out of anger, but testing the limits of my love,

     "No matter the wicked deed performed my teddy was always there
Dirty curly brown, yellow glowing eyes with a forever evil stare,
     "Always with me in personal exile who didn't think I was sick
Especially when caught feeding teddy cut skin from my dick,

     "On that horrifying day me and teddy was separated
Pain consumed me deep as I became totally devastated,
     "Running into the basement I embraced the cold dark
Along with the infatuated hate that filled my broken heart,

     "Where the dark took me-it also tortured me throughout the years
Turning what I have lost into murderous uncontrollable fears,
     "My murderous mentality also led to my murder
Leading to a prison gangrape and then stabbed to death over a hamburger,

     "Death and location-to be with teddy I won't be denied
My body may be dead and violated, but my deadly spirit is alive,
     "Teddy's psychic call shines like a nuclear flare
Leading me to a place where there's laughter everywhere,

     "In this place is where I use to play and piss
Where I learned about myself and dealing with others shit,
     "Protected and terrorized to me it was all the same
The constant teasing always had me crying in suicidal shame,

     "Now tears of shame have become tears of desired want
While through material walls my incorporeal form easily float,
     "Blowing through flesh like wind under a dress
Leaving them mind fucked and in a disfigured mess,

     "Arriving at teddy's location I glided through a wooden door
And what I witnessed shook me to my undead core,
     "Small children were having fun incorporating teddy into their play
It sent me into a mad rage, because their joy will end this day".
All writing remains the property of the author. Don't use it for any purpose without their permission.
likes

4

reading list entries

1

Commenting Preference:
The author encourages honest critique.