Content Warning : Do you want to continue?
This poem contains content which some readers may find disturbing.
It is unsuitable for children or anyone who is easily offended.
YES
I am over 18 years old, I have been warned and I still want to read this poem.
NO
I don't want to read this type of content, take me back to the previous page.
deepundergroundpoetry.com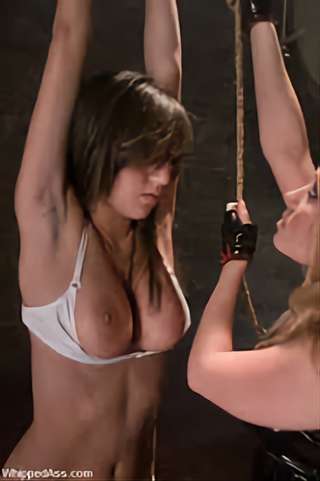 Intimate Inmate (Part 2)
Another day like any other for that broken-hearted girl
Serving twenty-five behind the prison wall
Trying not ta smile as she steps into shower stall
Knows Becky-Ann finna be on da prowl.
Puts down her towel, but before she can strip
Feels the grip of cuffs around her wrists
Leading her around the corner
Down a dark corridor she ain't seen before
Becky-Ann whispers in her intimate inmate's ear

"I hear ya been causin' trouble
With this pretty lil bubble of a butt
Spreadin' rumors 'bout how you're my slut."

Now Becky-Ann had this plan for a while
Since that first night been wantin' ta
Fuck her Intimate Inmate right
Creaming at her seam to have her
Brunette make her pussy wet
Yup, it seems she's about to cash her bet.

"Your punishment goes as follows:
We're headin' to the Gallows
Soya can put ya head in my thong
Until I fucking scream a song
And don't be mean, clean the cream"

That broken-hearted girl wonders
What awaits behind the solid-looking door
Surprise, surprise its the dream of a whore!
Feels when libido rise as she eyes the
Leather, ropes, shackles, chains
Whips and cock-shaped thangs
Then almost trips when Becky-Ann
Shoves her to the corner and begins to strip.
Busty tits with swollen tips
Bust free from see-through bra
Best damn rack dat Brunette ever saw.
Now Becky-Ann draws in tight
Makin' her bite her lip and lose her mind
Slowly grinds dat ass between
Her Inmate's thigh.

That broken-hearted girl didn't know
She was bi, but my oh my
Does she wanna devour
The bare flower she has before her.
Kneeling down happy to be the inspector
Of Becky-Ann's pussy necter.
Starting slow justa please, a playful tease
But quickly parting the seas.

Becky-Ann feels her pleasure growing
Throws her head back groaning
At her Intimate Inmate's sucking and licking
Now the heat begins ta soar
Makin' her scream like a goddamn whore
When she feels tongue tickling clitoris.
Few seconds later she's ready to shatter
Singing a chorus like she's writing a thesaurus.
Now her Intimate Inmate's face is a
Sticky mess, best for her to undress.

Becky-Ann back in control,
Regains her aggressive role
Tearing and ripping prisoner's robes
Gropes a breast, grabs dat ass, licks her cat
Then turns the water on full blast.
Nah this ain't the last of the fun,
Becky-Ann just needs to get a cock-y gun😉

TO BE CONTINUED...
All writing remains the property of the author. Don't use it for any purpose without their permission.
likes

4

reading list entries

0
Commenting Preference:
The author encourages honest critique.