Content Warning : Do you want to continue?
This poem contains content which some readers may find disturbing.
It is unsuitable for children or anyone who is easily offended.
YES
I am over 18 years old, I have been warned and I still want to read this poem.
NO
I don't want to read this type of content, take me back to the previous page.
deepundergroundpoetry.com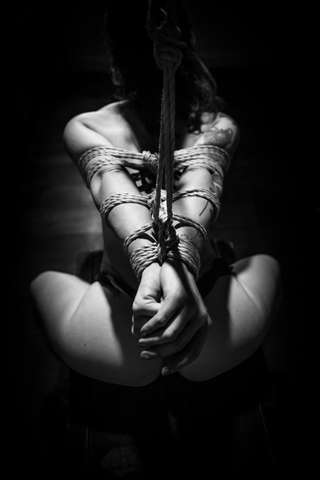 Butterfly

Purposefully tattered
precarious edging
a mind completely spun
of figurative glass
blessed, are the cracks
perfectly wished for
requirement
is the desperate need
of shattering

A canvas of flesh
pure heaven sent
kisses come
in the form of wanted pain
by harsh devoted hands
begging pleas that heighten
to be righteously soothed
in the dire welcomed strength
of his forceful command
O' delicious
each reddish hint-
shadows left
by his shibari rope's clever,
tight caressing brand

Marks so divine
perpetual goose flesh
is entirely entwined
while unobserved bites
hum their aching why's
from each one of her
tied closed
yet displayed inner thighs

Spinning beautifully
broken, midair
blissful
she can finally let it all go
without one single care

In roped bonds
what they've both found is rare
a mutual shared calling
a deep answer
to which they each
eagerly do share

When finally
[kneeling]
in position
lost in wonder,
welcomed
is the conditioning
as well as such espousal
of pure surrender
willing, the give in
when surety settles deep
within her

"Fuck"
pleas are
whispered
::repeated::
whilst
her fingers
circulate
exalted
marked
reminders,
reliving
those
beautiful cherished
stings

Morphed now,
from usual pupa
transformed
emerges

a ravishing butterfly


To sail free—
.
.
.
upon
proud
submissive
w i n g s








All writing remains the property of the author. Don't use it for any purpose without their permission.
likes

29

reading list entries

17
Commenting Preference:
The author is looking for friendly feedback.