Content Warning : Do you want to continue?
This poem contains content which some readers may find disturbing.
It is unsuitable for children or anyone who is easily offended.
YES
I am over 18 years old, I have been warned and I still want to read this poem.
NO
I don't want to read this type of content, take me back to the previous page.
deepundergroundpoetry.com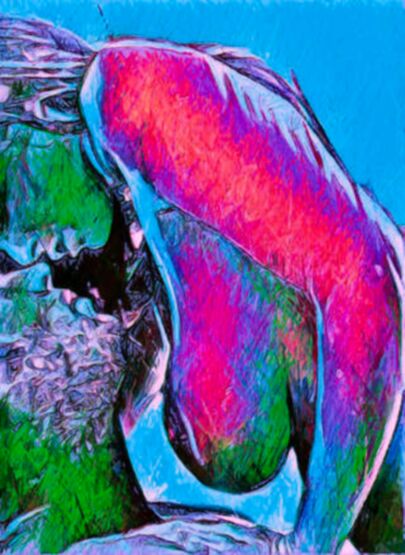 Goddess Aphrodite Seducing God Ares Out Her Bed And Into Her Heart
In the bliss of the night moaning of sultry cries
Forbidden passion as you part this Greek Goddess' thighs
Take me Ares on the night before twilight
Let the skies be unto our union as time stands still
Love me tender, love me sweet
Twas the soul of love to my soul speak
Bare me unto your obsession, Aphrodite and allow my body once into yours to fall upon the reek

Thy mighty man of loin cloth thus doth of splendid sensations
In my bed, inhibitions the whispers of jubilations
Fierce come unto thee
The taste of silken words, dripping from the mouth of his vine tree
The God of courage and war
Into my arms our bodies moving ouroboros the yearnings we bore
Inhale my honey scent laden with the bed of my fabric kissing my crotch
Wishing that it were still wet
To instantly give you an erection upon the paradise of my body once felt
Harder than you thought you could ever get
 
Sniffing the strap that was nestled in my crack, aiding the hardness and length to your aroused pole  
Are you having wicked fantasies of swiping your eager tongue all over my dewy skin  
Inching your cock into my silken hole as you sink it in  
  
Mm... I know you wish you had two tongues  
One for my sweet pussy taste and the other for snaking in and out my derrière
Kissing every inch of my body in the ache chasing in teh net of the rising sun    
As you whispered in my ear you wish you had three cocks  
A hard one for my mouth, my butter rum abyss, and my ass cupped as palms caressing over my buttocks  
  
Mmm... I just love the way your tongue rolls  
How you asunder my soft folds, plunge deep inside me with your hardened pole  
Climbing all up in this as you wish  
Penetrating each and every sunken hole  
  
Blessed unto the calling you were to get a sniff of my thong  
The sweet taste and smell of me encased between my pussy lips all day long  
If you had a night with me in your bed  
Back arched, my arms bound above my head  
  
Would you bring that dream into reality, giving me a golden shower    
Executing over me your ruling power  
Spacing my legs wider, teasing my cunt with my dildo hour after hour  
Loving the indulgence of feasting inside my moistened heat  
Tonguing bathing me as you do best, oh sweetheart, you are good enough to keep  
  
My body submitting to your toys, you rule as gadgets to please  
Keeping me under the covers, my pre-climax already signed with the tip of your tongue appease  
The lure to entice me to you is always there    
Our sex scent drifting on jasmine odorous laden air  
  
Once I disrobe  
A soft kiss to my lips, a lick behind my earlobe  
On your kness you go, sniffing my cunt before your face probe  
Mm...  sending my body into the sweetest oblivion like you always do  
Then dividing my cunt, shooting your elongation inside this slicken carnal food
Making me climax out of control, your pearly flow marinating my juices with your plundering moves  
  
Squeezing my breasts, body still jerking  
Cupping my buttocks, his erection soaking inside my oceanic chasm as my pussy on his dick still twerking    
Oh you keep spoiling me like this  
Pulling out his pulsating dick  
Flipping me over, ass parted, his erection sinking deep in my tight abyss  
Sheets clinched  
His head bobbed backwards and there his nutt went
Oh Ares.. remember me in the hushed liaison of our immortal reminisce
The gift of the stars unto you I bestow and my lips I have tenderly kissed


I always did admire Ares and Aphrodite's beautiful love story, chasten and forbidden passion.. it makes silk sheets sing their own immortal songs

Ares is the Greek God of courage and war. He is one of the Twelve Olympians, and the son of Zeus and Hera. The Greeks were ambivalent toward him. He embodies the physical valor necessary for success in war but can also personify sheer brutality and bloodlust.

Aphrodite is an ancient Greek goddess associated with love, lust, beauty, pleasure, passion and procreation. She was syncretized with the Roman goddess Venus. Aphrodite's major symbols include myrtles, roses, doves, sparrows, and swans.
All writing remains the property of the author. Don't use it for any purpose without their permission.
likes

4

reading list entries

0
Commenting Preference:
The author is looking for friendly feedback.