Content Warning : Do you want to continue?
This poem contains content which some readers may find disturbing.
It is unsuitable for children or anyone who is easily offended.
YES
I am over 18 years old, I have been warned and I still want to read this poem.
NO
I don't want to read this type of content, take me back to the previous page.
deepundergroundpoetry.com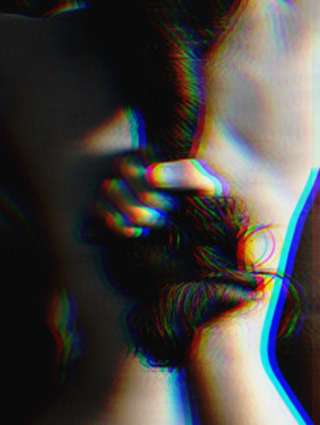 Valuable lessons learned from ghosts of a bygone era

There's you
sourcing  
all my dirty, sex stark  
driving need  
 
Desperate warmth  
coming to a boil  
percolating between  
moist thighs  
 
Darting thoughts—  
muffled groans  
rising louder  
past the taste of my own panties  
balled up, buried and gagging  

drips of drool  
fall from kiss-swollen lips  
wetting a patiently tracing finger  
(relishing my songbird cries)  
were is I,  
am the one who is soaked through-  
from the lingering  
smell of myself  
that those juicy fingers, teased forth  
 
Pinned against the wall  
trembling legs  
forced apart  
by your strong knee  
unmercifully rubbing  
the center mass  
of my utter destruction  
apex whimpering  
eyes blueblazing  
cutting  
through the muted gray fuck-lighting  
dark hair wrapped tight  
around a fist of mastery  
as I bronco buck  
begging for... more  
power steer my reigns  
 
taming  
extracting  
fucking me  
exactly  
like  
I'm  
fucking—back  
 
Where need  
this piercing  
pales  
all  
else.  
 
 
 
 
We  
know  
only  
this.  
 
 
 
All writing remains the property of the author. Don't use it for any purpose without their permission.
likes

25

reading list entries

11
Commenting Preference:
The author is looking for friendly feedback.