Content Warning : Do you want to continue?
This poem contains content which some readers may find disturbing.
It is unsuitable for children or anyone who is easily offended.
YES
I am over 18 years old, I have been warned and I still want to read this poem.
NO
I don't want to read this type of content, take me back to the previous page.
deepundergroundpoetry.com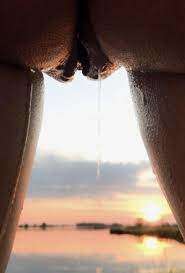 Tears of the Sunshine Pussy
   "Just like two bitches walking down the street
One on four legs and the other on two feet,
     "One don't care where they squat to shit
While the other don't care where they squat on a dick,

     "Women always talk that big pussy talk
That's why down Pussy Lane I always take the long walk,
     "She want it-I got it and no time soon I'm gonna stop it
Because like party balloons that ass I'm gonna pop it,

     "Before I go deep and get in those guts tonight
I'll be a gentleman and overly polite,
     "Until it's time to turn off the light
Then a hard dick motherfucka won't act right,

     "Delivering dick understanding now she knows how it's gonna be
Straight vagina devastation with no time to pee
     "Moaning and grunting and moving all around
Call me Pennywise, because in the pussy I will clown,

     "My dick has been destined to be part of the rock-hard culture
Eating pussy to the bone like a hungry vulture,
     "Free balling or underwear hitchhiking
Intense lovin until on my flesh the female is biting,

     "So, fuck calling grandma, sister or mama
All that AT&T shit can be done after this dick drama,
     "Or whoever is her fucking cell phone provider
Because she's working my bone-a-phone while I'm deep up inside her,

     "The fuck faces she makes looks like she's mad at me
As I hold her legs down like strong gravity,
     "Busting her wide open-she knew the repercussion
Unrelentless, hardcore straight 'goddamn CS' fucking,

     "No matter the position I always migrate south
Regardless, if it's wet pussy, thick ass or welcoming mouth,
     "Eyes rolled back while shaking from my sexual surge
As the pussy catch a purge and she's unable to say a word".
All writing remains the property of the author. Don't use it for any purpose without their permission.
likes

6

reading list entries

1
Commenting Preference:
The author encourages honest critique.