deepundergroundpoetry.com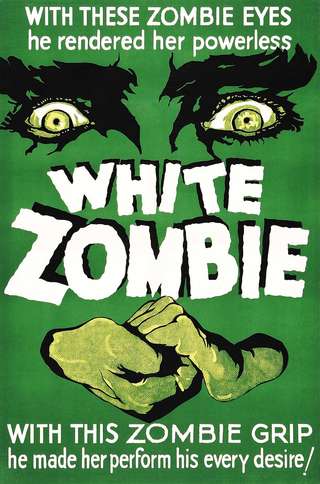 1930s Double Feature
Please take your seats and do not have nightmares.
God will keep these phantoms black and white.

I

The Vampire Bat (1933)

Let me take you back in time
and place, to a town
with sloping rooves
and cased windows.

It's always night,
and black-and-white.
A woman cries out,
in lamplight.

A doctor seeks to find
eternal youth
in bodies drained by what
crawls on those rooves.

And sneaks in by a cased window.
A bat whom only Hell can know.

II

White Zombie (1932)

The chant is lain, the carriage stopped
in time to seize the bride's white scarf,
so that a white zombie can then be made
of her. The West Indies play host as bride
and groom arrive to find a coward in
their sight. A false and faithless friend
for whom the witch doctor is Christ.
He'll sell the mangoes of his eyes to him,
and have her mangoes in return.
And so with voodoo flame she'll burn.
The doctor claims a white zombie.
But witch doctors are faithless too...

Lugosi says, too late for hope,
that he's got a fancy... for you.
All writing remains the property of the author. Don't use it for any purpose without their permission.
likes

1

reading list entries

1

Commenting Preference:
The author encourages honest critique.