deepundergroundpoetry.com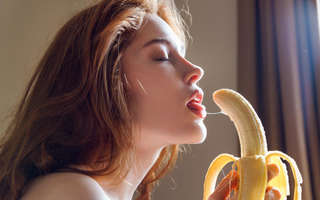 Banana
The wind is warm, the windows are open,
A violent spring breathes with passion.
We are in the kitchen with appetite,
Different fruits and a sip of wine.

You are sitting opposite, looking greedily,
The table will serve as a chair for me.
I take a banana and eat it clearly,
Slowly peel the skin, it is naked.

Tasty so I take it deeper and deeper,
Sweetness, feeling on my lips.
You still look motionless,
But you are already sitting on knives.

I don't hide my gaze, I bite it,
Taking it in slowly, but very deeply.
I'm playing with a banana, as I play with you,
Your wine wets my lips.

To hell with everything: bananas, pineapples,
I'll drink you in completely with my wine
today on the terrace,
Be fruity with me, wound up!

Better than any fruit is your flesh,
I will be with you lustfully, neatly.
Today there are no inhibitions at all,
Love me both deliciously and perversely ...
All writing remains the property of the author. Don't use it for any purpose without their permission.
likes

21

reading list entries

7
Commenting Preference:
The author encourages honest critique.