deepundergroundpoetry.com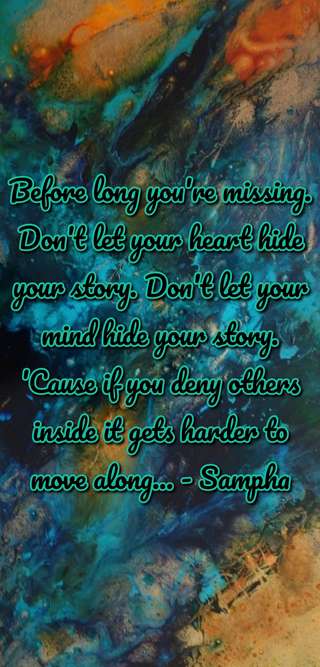 Missing Posters
"Before long you're missing, Don't let your heart hide your story. Don't let your mind hide your story. 'Cause if y/ou deny others inside it gets harder to move along…" - Sampha

Frightening chaos in a hostile world
A world both public and private
Fighting to stay present… to stay here in these moments
Missing posters following my footsteps
A persistent threat

My voice was captured by my burdened heart
The heavily burdened heart secreting away the words that may set it free
Fear a malignant influence on my behavior
Influencing the choice to hide away like a shameful sin

Arguments bounce around inside this vivacious mind
Debating the pros and cons of embracing myself and my experiences
Finding it brave and beneficial to enhance the world with testaments of survival
Frozen by fear at the door
Fear glaring through slits and  promising pain

Boarding up the doors and windows to my life
Enforcing high walls that guard both its creator and tormentor
Missing posters following my footsteps
A persistent threat

Realizing that binding myself to my past as if it's my present keeps me weak.


All writing remains the property of the author. Don't use it for any purpose without their permission.
likes

0

reading list entries

0
Commenting Preference:
The author encourages honest critique.