Content Warning : Do you want to continue?
This poem contains content which some readers may find disturbing.
It is unsuitable for children or anyone who is easily offended.
YES
I am over 18 years old, I have been warned and I still want to read this poem.
NO
I don't want to read this type of content, take me back to the previous page.
deepundergroundpoetry.com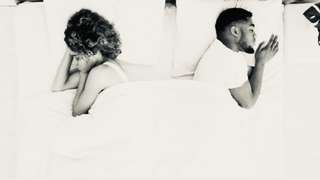 Tease
Times when I wanna hold you and kiss you deeply to touch your soul to provoke the demons inside me but I cant...
Your every glance I pretend to not notice as I walk by or pretend to sleep. I see you struggle, fighting with yourself holding back the desire to rip my clothes off when that same urge is tearing me limb by limb because I feel you. Stealing glances as you undress to bare nakedness in front of me it's like electricity pulling me towards you wanting me to go on bending knees and taking you deep inside my throat, my mouth drools at the thought of this but I instead look away and smile with my back turned to you. I feel you piercing into me like a nail ripping me open but yet I'm too stubborn to bend to your desire.
As we lay in bed, I oftentimes feel your hand firmly stroke my cheeks as they jiggle in your hand my pussy drips with excitement yet still I stay still as my heart races and skips beats I pray you don't feel my energy as the demons in my head craves you and screams your name. When you're asleep I run my hand gently across your body and watch you grind slowly as I run my fingers across the waist of your boxers your dick becomes rock solid hard and I'm provoked once again to take it all in but I stop once I see you peeking.
Shit was never always this estranged between us we were once lovers that are slowly turning into strangers.
All writing remains the property of the author. Don't use it for any purpose without their permission.
likes

4

reading list entries

1
Commenting Preference:
The author is looking for friendly feedback.