Content Warning : Do you want to continue?
This poem contains content which some readers may find disturbing.
It is unsuitable for children or anyone who is easily offended.
YES
I am over 18 years old, I have been warned and I still want to read this poem.
NO
I don't want to read this type of content, take me back to the previous page.
deepundergroundpoetry.com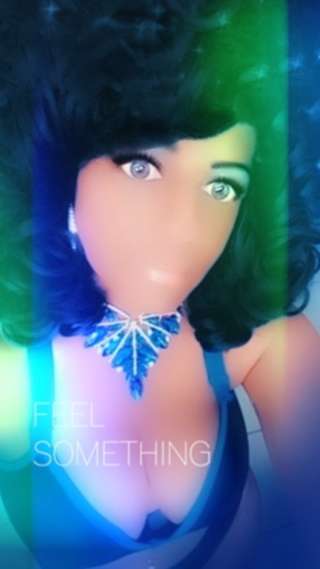 Mm.. The Softness Of Sapphire
I heard diamonds is a girl's best friend
Mm… does it cum with a handsome man
Appraising my curvaceous attributes where he stands  
I love it when a man's eyes have that let me see what's underneath look  
Once I wet my finger and slowly drag it down my over a nipple, my jeweled navel  
That's all it took  

In haste, yanking my rhinestone thong off, laying me down, parting my legs  
Sniffing my scent, fingering my soft folds, my palm to his head  
Kisses to my cunt as I'm arching my back on his King size bed        
Oh yes… licking this snatch through and through    
His tongue thrashes always heightens my desires no matter which way wiggles when it moves    
      
Creole thighs enclosing the sides of his face        
Mouthing my clit searching for my pearls deep inside my silken lace  
My jucies splattered all over his face  
Oh yes.. drenching the parting of abyss with his spit  
The pleasure of my taste lamenting his tongue tip.. glossing his lips  
Seesawing my pelvis, slowly, making sure he gets the full benefits of this pollinated gift  
 
Yes.. let my g-spot gush... cupping my buttocks, mouthing my lush      
An angry tongue slip.. ooo baby... mm.. smashing my breasts from the climatic hit        
Clenching my buttocks tighter, drinking in my essence from my honeyed drips        
Sultry moans, my body trembling, endorphins beginning to shift  
My gripping sensations, a moisten stream invading past his lips  
Savoring my flavor  
 
Reaching down, palming his width, pumping for that mm.. hard stick      
Lifting my other hand, darting my two fingers inside  
Kissing over my knuckles, V-shaping my cunt his finger and tongue hungrily dine  
Tasting my wetness off his fingers one by one        
Heaving up, mattress dipped, loving when he takes over my body when giving me some  
Swimming in the pools of my creamy butter rum  
 
Burying his dick inside me until his flow of pleasure probe, throb, and then cum        
Taking my body over the edge until the rising sun        
Oh I fall under his obsession when he makes me climax  
Over and over again until we're breathless, I'm spent, and we're both done        
Mm… feeling the fantasies of your wet dreams        
Ohhh... handsome one, you're hard and firm, erected North as it seems        
   
Pulsating, once inside my mouth, head bobbing        
Suckling his pre-cum, my oral fetish is.. he knows I'm robbing  
Palms cupping his buttocks    
Gagging, choking, spit drooling, his dick has my mouth on lock        
Umm, I love a man's harden anatomy, when its way pass my soft lips        
My sweetest rapture is to swallow the explosive rewards of his dick        
   
Tongue coasting the tip, sucking over the dome top        
Kisses to his taunt elongated skin  
His erection pulsating in my plam, licking all over his fatten cock    
Pumping the length faster... ooo... he's about ready to pop        
Don't worry my handsome one.. I plan to catch every single drop        
Licking his dick up and down, lifting his balls, under, and then around        
Grunts of surrender is his only echoing sounds        
   
Throwing his head back        
Palm planted on my head, dick serenading my mouth from the enticement of my wicked knack    
No not yet... placing on his cock ring to lost in the passion to think or blink  
Oh fuck...  teasing my pussy lips.. smearing the tip... milking his pre-cum to drink    
        
Holding my head still  
Grunts of pleasure as my mouth his flow slowly fills  
Smoothly down my throat the river rolls, addicted off his taste, yes, I know  
Smearing his tip over my breasts, licking off my fingers the globs at best    
   
His dick seeping, my mouth pleasure, leading  
Oh sweet mercy sing your pleasure to me baby  
Whore in the sheets, in the conference room, a lady  
Ooo… fingering myself  
You always make me so wet      
On my knees, you are such a handsome stud to please        
Submitting to my intoxicating tease  
We own the night as we bow to the stars written for you and me  
Mm.. what a gem... when laying under him  
 
All writing remains the property of the author. Don't use it for any purpose without their permission.
likes

6

reading list entries

1
Commenting Preference:
The author is looking for friendly feedback.