Content Warning : Do you want to continue?
This poem contains content which some readers may find disturbing.
It is unsuitable for children or anyone who is easily offended.
YES
I am over 18 years old, I have been warned and I still want to read this poem.
NO
I don't want to read this type of content, take me back to the previous page.
deepundergroundpoetry.com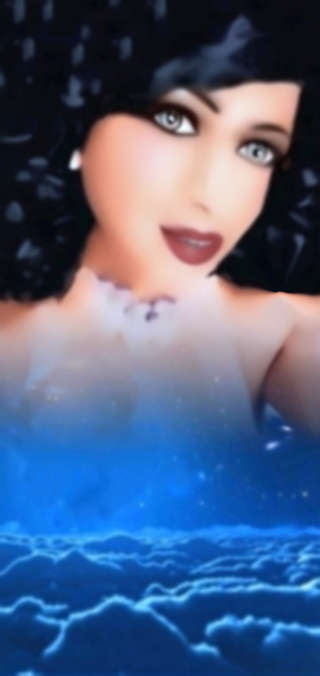 Unleashing The Moon
Trance of the mind, surrendering veins, pleasure enlightenment, all mine
Soft fangs sinking deeper and deeper, weakening of flesh as time blindly winds
Basking in the heightened glory of my forbidden carnal designs †
Intoxicating wine has been siphoned from off the nectar of such sweeten grape vine † †
Adam has been seduced, surrendering unto alluring temptations †
Eveís apple sweetly eaten in this lifetime, no earthly or lasting trepidations † †
† †
The moon cast of illumination once it speaks reaches full † †
A star drainage of its energy with an enticing seesawing dancing pull † †
Soft lace interweaving with hard wool † †
Echoes unrelenting, as minds reinvent, under such dire broken chains circumvent † †
A fairytale, no, itís reality of the beguiling bite from loverís cup fate has sent † †
Um... marks of love lashing, tongue thrashing † †
Throughout the night as love is rehashing † †
† †
Ringing out our vows to the mountaintops † †
Written in the skyís landscape, the galaxy as the witnessing backdrop † †
The shadows of the lament unyielding conspire † †
Hidden depths of loyalty one must now sing to an empty choir † †
A lair of dying love has been tossed into a lake of fire † †
No smothering flames for a heart to ever rehire † †
† †
Curse be damned to a rolling stone †
Kisses of asunder, too far gone †
Silence sings the cadence of an echoing song † †
A fair maiden wails in heat † †
Two star-crossed lovers, now under the covers as immortality greets †
Hearkening cries of a once adorned love shared throughout the dusk of night †
† †
Daylight descends, memories of a pseudo love affair lost in its earthy plight † †
Umm, take of me, the elixir to relive such glories times, loverís celestial flight †
Attuned souls soar on Heavenly wings † †
Promises to love with a sealed kiss, given of five golden rings †
To the Land, uprise from the Sea, †
bowing unto Earth, hallow thy Wind, reincarnation wings by Fire †
The moonlight echoes of our crescendo desires † † †
† †
Infinity of soft caresses felt beyond the galaxyís ages † †
The essence of our love notes inscribed upon our sheet pages † †
Let the new story written spill forth for a solitude heart veiled in blue †
Bows in the realm of time to give the forgotten its remotely just due † †
The stars twinkling overcasting a fable once written † †
Sentiments thrown in the gentle breeze, withering flowers, the tale of a beautiful eidolon once smitten † †
Honey now drips from the lips of a prince who has been vamp bitten into the stars written † †
All writing remains the property of the author. Don't use it for any purpose without their permission.
likes

4

reading list entries

1
Commenting Preference:
The author is looking for friendly feedback.