Content Warning : Do you want to continue?
This poem contains content which some readers may find disturbing.
It is unsuitable for children or anyone who is easily offended.
YES
I am over 18 years old, I have been warned and I still want to read this poem.
NO
I don't want to read this type of content, take me back to the previous page.
deepundergroundpoetry.com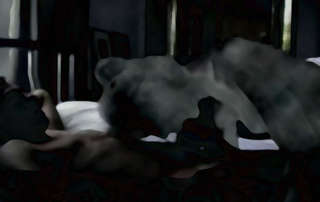 As If in a Dream
She came to me as a shadow,
a warm desert breeze flowing over me.  
"I've come back for you," she said    
over my pounding heart.    
   
My eyes fill with tears because I could not go.  
"I've loved others," I whispered so the lover next to me wouldn't stir.    
"I've directed your paths, desiring only your happiness," was her soft reply.    
   
My hands flailed in vain against the darkness, trying to touch her.  
"Be still," she said with a whisper that felt very close.    
Hot puffs of air pulsed against my skin.  
The air was alive!  
Had she truly come for me?  
The warmth that wrapped me in ecstasy answered.    
   
I looked down to see a shadow cloud moving over me.    
I cupped my hands over the crown of the cloud,    
but my fingers disappeared inside the opaque glow.    
Still, I felt her moist lips and tongue    
sending shivers of joy up my spine.  
   
I cried out as I spent myself into her silky warm vessel,    
feeling her tongue press against my pulsing flow.  
I stared down at the cloud hovering there and felt another hot kiss as it spread toward the ceiling, losing form.    
   
What remained was the warm weight of my sleeping lover's head resting on my softening flesh.    
I touched her familiar features and felt my cooling juices puddled at her lips.    
The silent room filled with the soft hum of contentment from her breath as if lost in a dream.
All writing remains the property of the author. Don't use it for any purpose without their permission.
likes

3

reading list entries

2
Commenting Preference:
The author encourages honest critique.